–Pierce and Snohomish counties have grown faster than King County since 1990
–Pierce and Snohomish Counties both have heavy net commuter flows to King County
–King County has seen strong out-migration to Pierce and Snohomish counties
Job and residential growth
While still far larger than its two adjacent counties, King County has grown more slowly than Pierce and Snohomish counties over the past 30 years. Figure 1 shows an index of growth for the period from 1990 to 2019. For every 100 people in King County in 1990, there are 148 people in 2019. For every 100 residents in 1990 in Pierce County there are 152 residents in 2019 and in Snohomish County there are 176 residents.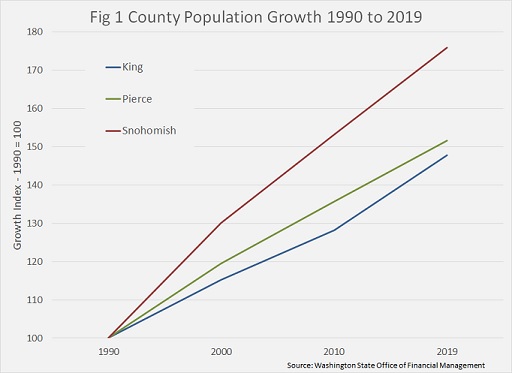 Figure 2 shows employment growth in the three counties. King County is still far larger as an employment center, but the other counties have seen strong employment growth. Anchored by Boeing's Paine Field plant, Snohomish County leans more toward the goods producing sector. With expansion of Joint Base Lewis McChord, Pierce County leans more heavily toward government employment.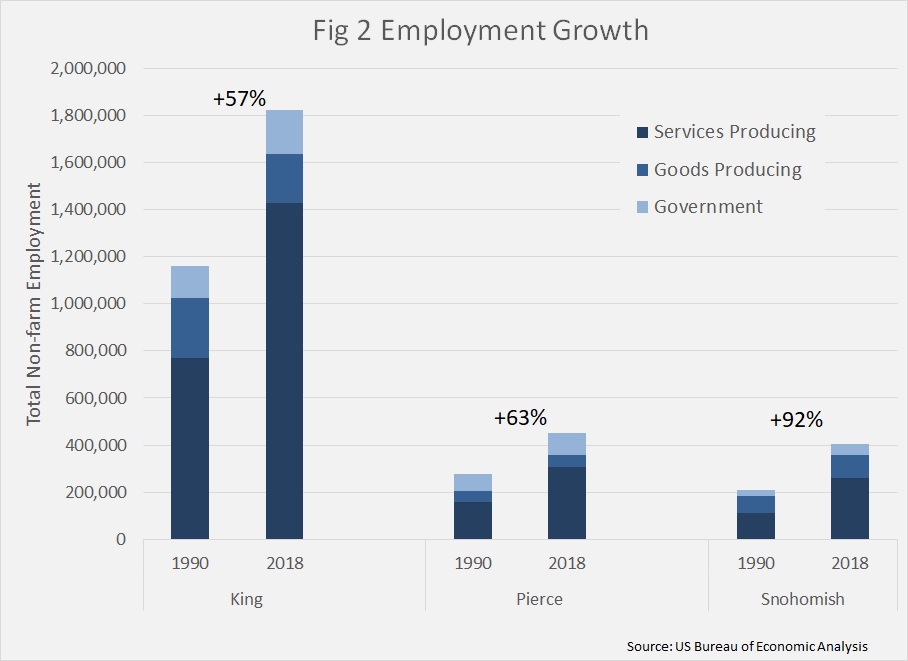 Commuters to King County
Even with strong job growth, Pierce and Snohomish Counties still have a lower ratio of jobs to housing than the region as a whole. Figure 3 shows the jobs-housing ratio for each of the three counties as well as for the whole region. Since about 90 percent of people who work in the three counties also live in one of the three counties, the 3-county average reflects the housing requirements of the region's job base. Pierce and Snohomish counties have a lower ratio, meaning they have more houses than their job base requires, while King County has a higher than average ratio, meaning that it does not have enough housing for its job base.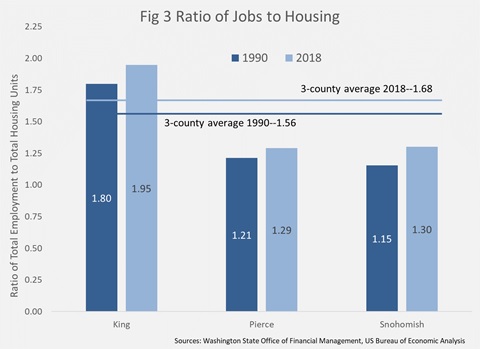 Figure 4 shows commute patterns to and from King County, based on income tax and unemployment tax records. The 143,000 people who commute to King County from Snohomish County, making up about 13 percent of the King County workforce. The 107,000 people who commute from Pierce County to King County, making up about 10 percent of the King County workforce. More Snohomish County residents commute to King County than work in Snohomish County.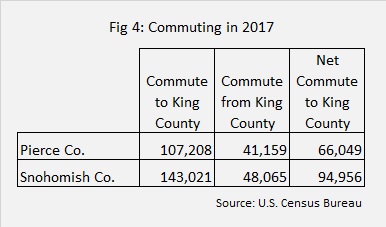 Migration from King County
Many, if not most, of those people commuting into King County from Pierce and Snohomish Counties started out living in King County. Figure 5 shows migration between King County and Pierce and Snohomish Counties, based on address changes on federal tax returns (most recent data available). This shows a strong pattern of net migration out of King County to the two adjacent counties.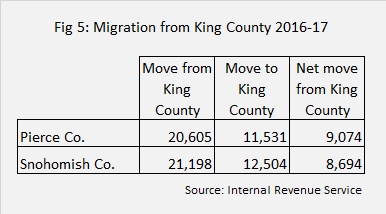 A clear pattern is emerging in the 3-county Seattle metro area. People move into King County from other states and around the world, to accept well-paying jobs in the technology sector. These people can afford to pay the high home prices in King County. People who have been working in King County and find they cannot afford the housing they prefer in King County markets move to Pierce and Snohomish Counties. This, in turn, pushes up housing prices in Pierce and Snohomish counties, forcing less well paid workers there to commute from places like Skagit and Thurston counties.
Looking ahead
Pierce and Snohomish counties have grown along with the regional economy, and Snohomish County has been among the fastest growing counties in the state. In spite of their individual successes, both Pierce and Snohomish counties continue to be heavily influenced by trends in King County. They both serve as sources of housing that is more affordable than what is available in King County. Questions going forward are
With little new transportation infrastructure between King County and the adjacent counties set to open in the next decade, can Pierce and Snohomish counties continue to absorb housing demand from King County?
Will rising housing prices in Pierce and Snohomish counties, driven by wages earned in King County, erase the cost advantages to firms of locating in those counties?
Will Pierce and Snohomish counties be able to lure high-paying employers away from King County with promises of lower costs and a high quality of life?