The Indexer has reported on levels of police department staffing, which leads to the other large and complex municipal function: fire departments. The two departments generally add up to about half of a city's general fund budget, and undergird a central function of local government: keep citizens safe.
Seattle has the largest fire department in the state, and it serves the most varied service needs. Figure 1 compares the per capita spending of the Seattle Fire Department with that of the largest 30 cities in the country.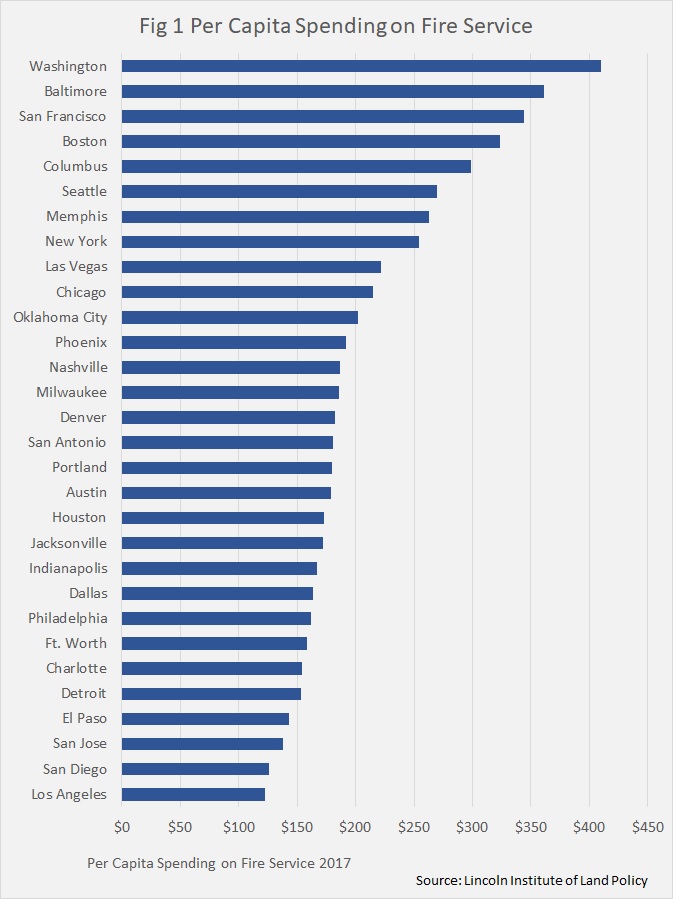 The variation is quite large. Fire departments can encompass some variety of emergency services, but the fundamental tasks–staffing fire stations and providing appropriate response times for all kinds of emergencies–should not vary too widely across cities. To hone in a little closer on this variation, we can look at staffing levels for uniformed firefighters. These positions are reported to the Census Bureau in its Annual Survey of Public Employment and Payroll. Figure 2 shows the number of uniformed firefighters (which includes firefighters who work as paramedics and emergency medical technicians) per 10,000 residents for the nation's largest cities.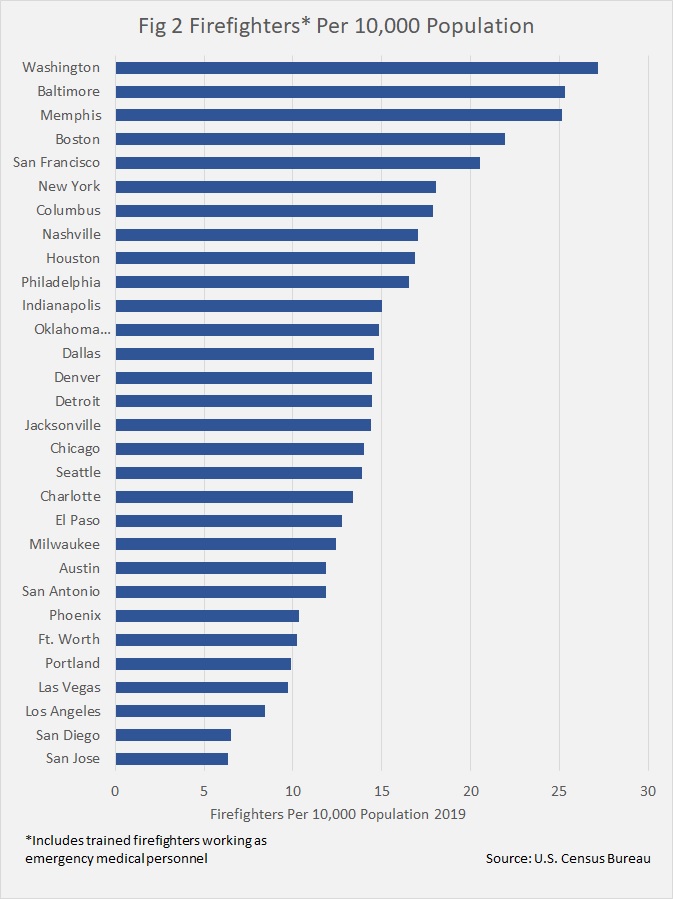 The order of cities in the two charts is not exactly the same, but a similar picture emerges. The data in the two charts is taken from different surveys two years apart, and considering differences in pay rates and budget practices, the correlation between the two is reasonably strong. There is simply a big difference across the country in the level of spending and personnel associated with fire protection and emergency services. Seattle comes in above average on spending and about average on staffing levels.
The Census Survey also covers the larger cities within Washington State. Figure 3 shows staffing levels, per 10,000 residents, for municipal fire departments around the state. Many areas are covered by independent fire districts, which are not shown here.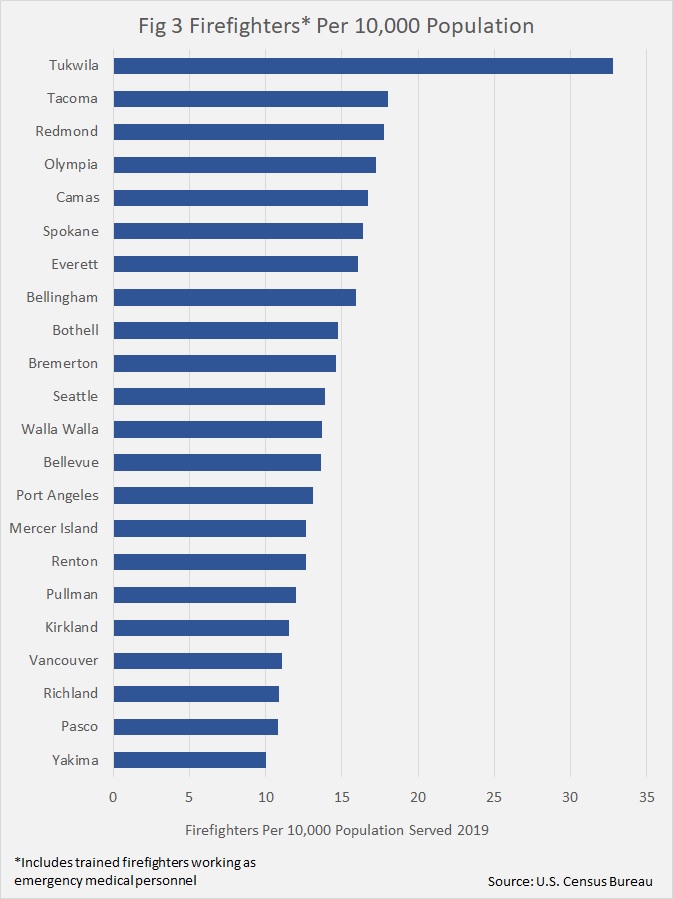 There is quite a bit of variation within the state. The per-resident measure is not very useful for the major outlier, Tukwila, since it has a heavy presence of commercial and industrial operations and relatively few residents.
Looking Ahead
Fire departments have been evolving as actual fires become more rare and demand grows for emergency medical services. But even if fires occur less frequently, departments need to provide readiness for major emergencies that could occur at any time.
A trend in recent decades has been for cities to get out of the fire protection business and turn that function over to independent fire districts. For example, several cities and fire districts in South King County joined to form the Puget Sound Regional Fire Authority, which now serves over 225,000 residents. Similarly, Eastside Fire and Rescue covers the cities of Carnation, Issaquah, North Bend and Sammamish, as well as some large unincorporated areas. Will more cities and fire districts follow this path, using scale to gain both economies and improved service?