Part II: Paratransit and Ferries
Last week we looked at the energy efficiency of the basic bus and heavy rail systems that operate in the Puget Sound area. Now, let's have a short look at two other elements of the public transit system: ferries and paratransit services.
Ferries
Ferries provided the first transit services in much of the region. From the earliest days of settlement in the Seattle area, steamers—mostly privately owned, but occasionally publicly owned—operated on Puget Sound and Lake Washington. As more roads and bridges were built, these services scaled back to the point of only operating on routes to islands and places where the drive would be much longer.
For decades, ferry service consisted predominantly of car ferries with passenger capacity, but passenger-only ferries have made a reappearance on many routes. The Washington State Department of Transportation still operates the overwhelming majority of ferry service, but other agencies have introduced service.
Figure 1 shows service and energy metrics for four ferry service operators for 2018.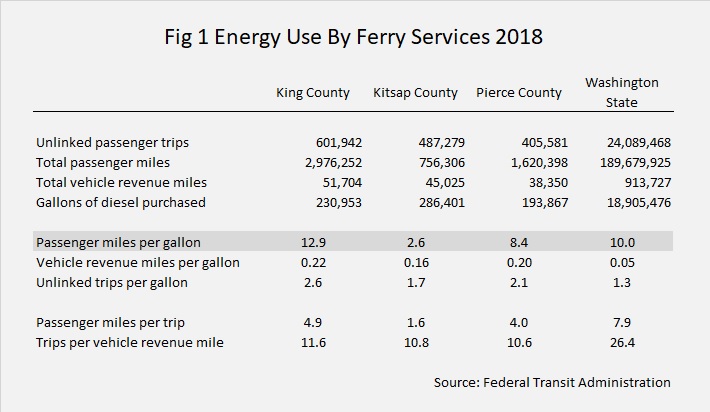 Moving through the water is definitely more energy intensive than gliding over pavement or rails. This data is from 2018, before some of the new services from Kitsap had gotten underway. It will be interesting to see how those new services shake out, especially compared to the existing state ferry service. And with the West Seattle Bridge unavailable, ridership on the King County ferry between West Seattle and Downtown should be more intense and, therefore, energy efficient.
Paratransit
The Americans With Disabilities Act (ADA) requires transit agencies to offer service to riders with disabilities. Most of this service can be offered on regular buses with appropriate lifts. But for those who cannot use that service, agencies must offer paratransit service—also known as demand-responsive service—that provides door-to-door rides on-demand. Figure 2 shows the basic ridership and energy data for these services.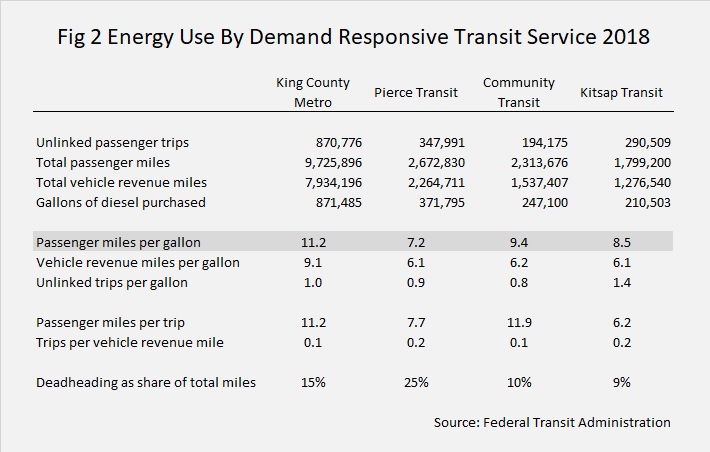 The close relationship between passenger miles per gallon and revenue miles per gallon indicates that vehicle occupancy is quite low. This comes from the nature of the service. It is difficult to carry multiple passengers when each trip is unique. This service also tends to be quite expensive, with the cost per passenger ranging from $42 in Kitsap County to $77 in King County.
Looking Ahead
A number of communities have made new commitments to passenger ferry service on Puget Sound. Passenger service to Lake Union from the Renton Landings development on Lake Washington is under discussion. Modern fast ferries can be quite energy efficient, but the total energy profile depends on ridership.
If reducing energy use is a goal, waterborne passenger service will always be challenged. A bus transit service can expand or contract capacity in 40 passenger increments. Ferries must operate at a larger scale, and, therefore, face larger energy use penalties for operating at low occupancies.
Paratransit would seem an excellent candidate for electric vehicles, given the short distances and available times between rides for recharging. Most paratransit services are contracted to private firms, so facilitating the capital investment in new vehicles will be a challenge.