The Seattle Times FYI Column recently asked "Why aren't Seattle schools more racially diverse?" The answer—they reflect the demographics of their neighborhoods—makes sense, but the article might not show the best way to measure diversity.
FYI Guy has developed a diversity index that gives higher scores to schools that have the most even distribution of students from various races and ethnicities. But unless that very even distribution reflects the district as a whole, it is inevitable that other schools will be less diverse. Distribution of a fixed population across schools is a zero-sum game.
So here's another approach: compare the makeup of the student body of a school to the makeup of the entire district. In other words, a normative ideal could be that schools reflect the broader community. To do that, we calculated the ethnicity share of the student body of each school and compared the share for each ethnic group to the share for that group in the district. The difference for each group between the school share and the district share, either larger or smaller, is then added, to get a total divergence score1. Figure 1 shows the five schools that had the lowest total divergence scores, and therefore most closely matched the diversity of the Seattle Public Schools.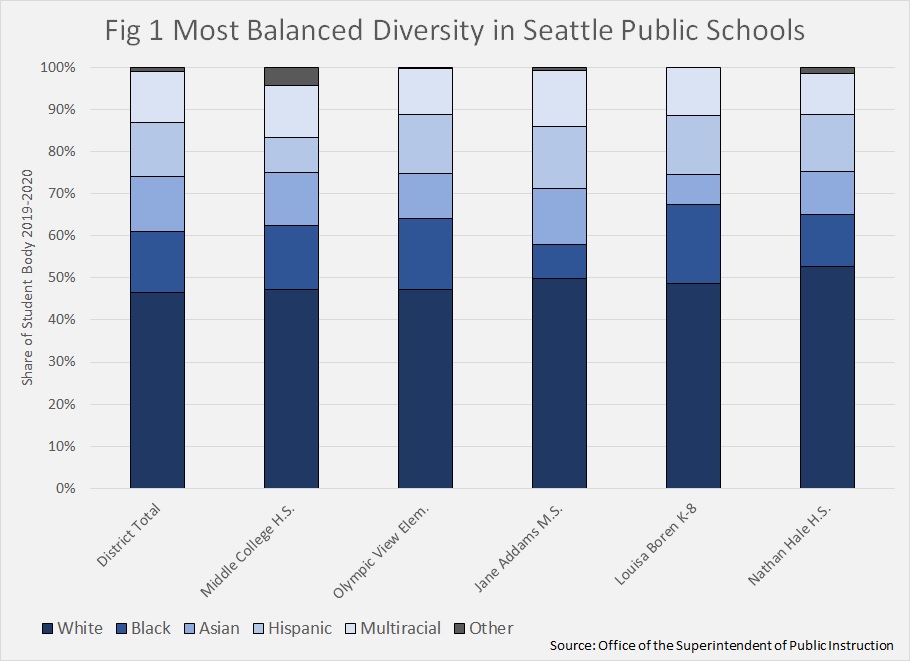 Of the five schools with the most balanced diversity, four are north of the Ship Canal, and two are special programs. Jane Addams and Nathan Hale are across the street from each other in Lake City.
Figure 2 shows the schools with the least balanced diversity, as compared to the district.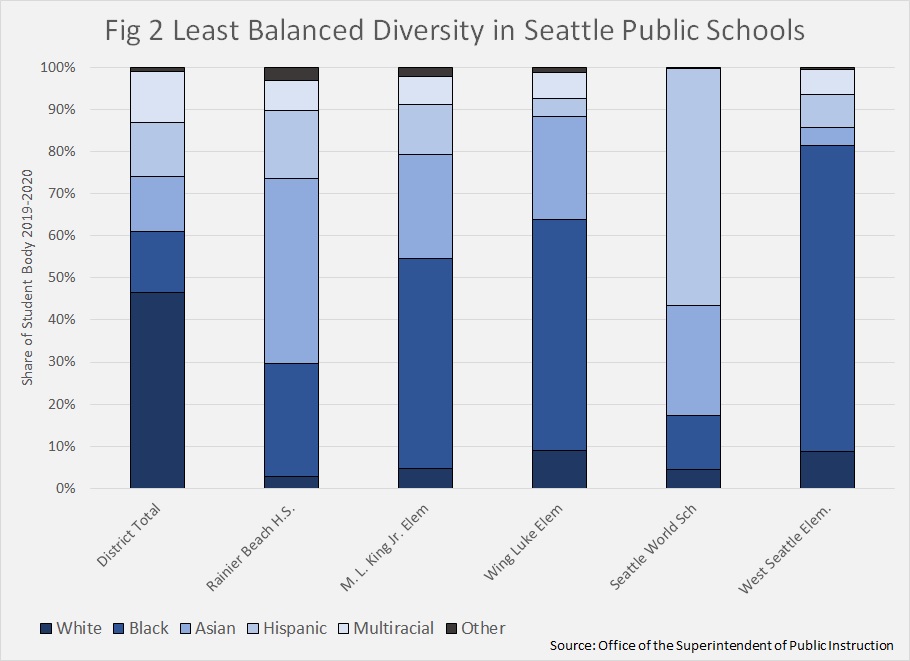 All five of these schools are located south of the Ship Canal and serve areas with higher concentrations of various ethnic groups. Each has a very different mix of ethnicities, but all have very few white students. (Seattle World School serves mostly recent immigrant children).
As the Indexer has pointed out, suburban cities are becoming much more diverse while Seattle's non-while population barely grows. In particular, the county's Black population has become predominantly suburban. But Seattle retains neighborhoods with historically large non-white populations, and the local schools will reflect that.