In the quest to wean the nation off of fossil fuels, one imperative will remain non-negotiable: people want to stay warm in the winters that will persist, even with global warming. Central heat is one of civilization's greatest achievements, and Americans are not going to give it up. Nearly all residential heating is based on carbon-emitting fuels, and we will be seeing a transformation toward non-carbon-emitting heating sources.
That transition will look very different in different parts of the country. The dominant forms of residential heating show distinct regional patterns. Let's look at how heating sources are used across the country. The maps show the share of homes, both single family and multi-family, heated with each source. Remember, though, that fossil fuels generate about 60 percent of U.S. electricity, so much of electric heating is really based on natural gas and coal.
Figure 1 shows the share of homes heated by natural gas.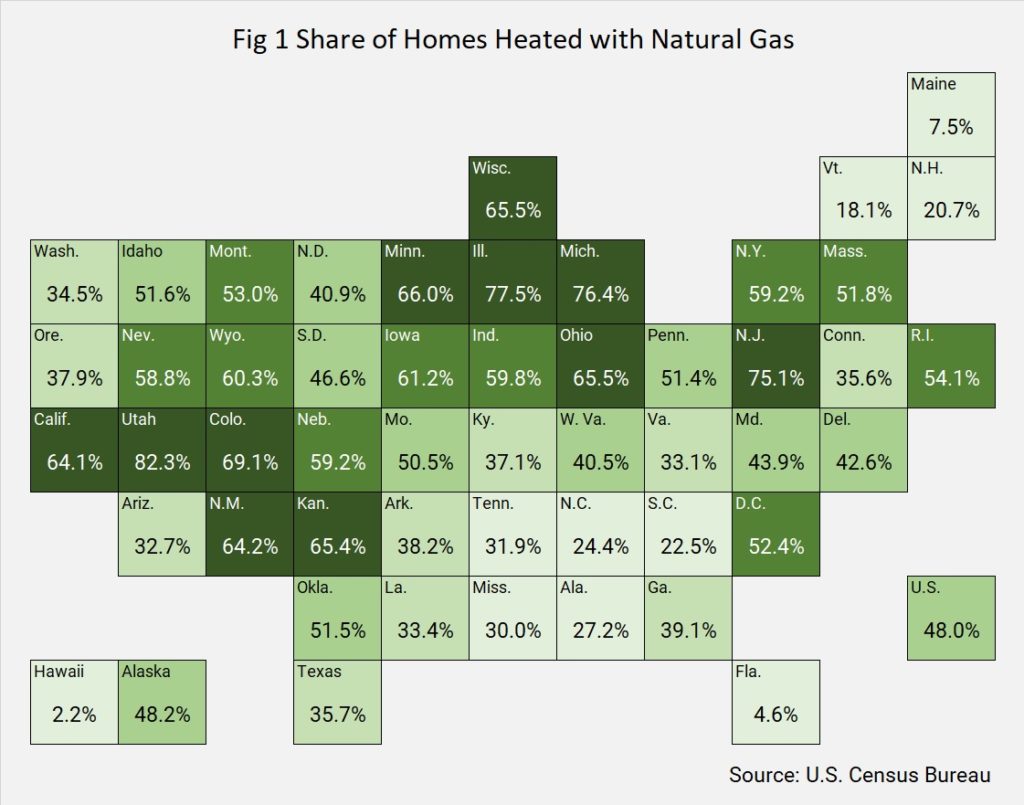 Nearly half of all homes, including multi-family, are heated directly by natural gas. Gas is widely used everywhere, but less so in the southeast, and, parts of New England. The Upper Midwest and mountain states, generally the coldest parts of the country, have the highest natural gas use.
Figure 2 shows the share of home heated by electricity.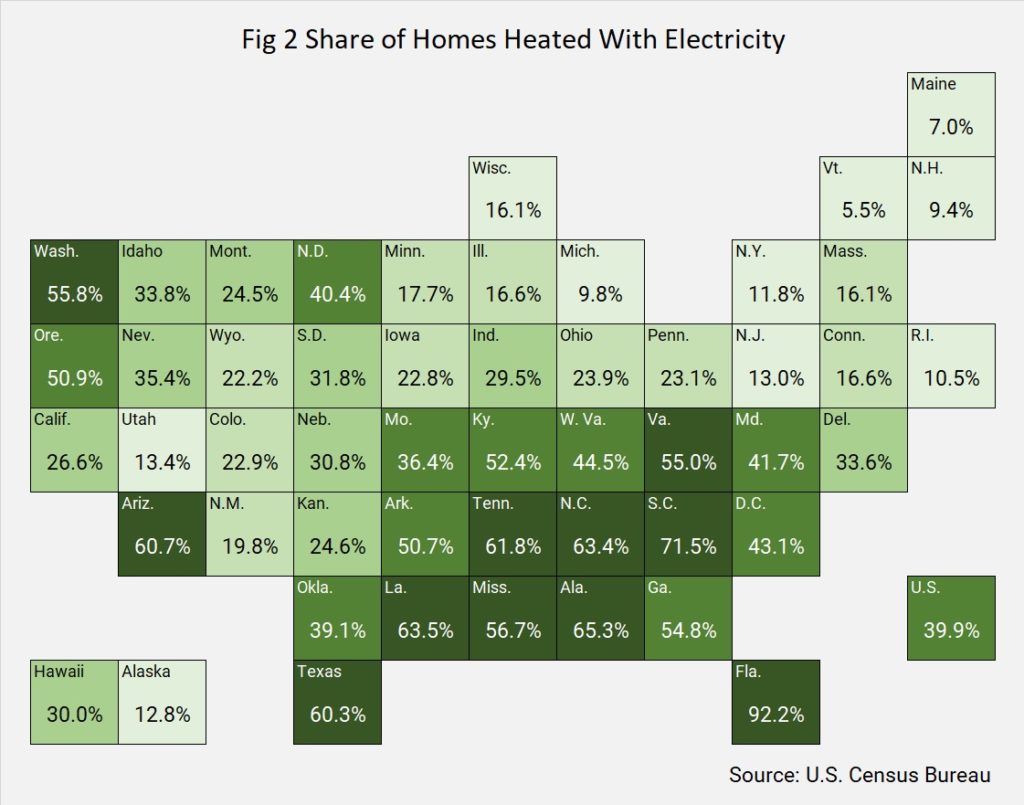 Figure 2 is almost a mirror of Figure 1. Southeastern states that use little natural gas are predominantly heated by electricity, while in the upper Midwest, electricity is used more sparingly. Not surprisingly, Washington and Oregon, with abundant hydropower resources, have high rates of electric heat usage. The high rate of electric heat use in Texas contributed to its electric power problems during the recent cold spell.
Figure 3 shows the share of homes heated with fuel oil, a traditional, but waning source of heat.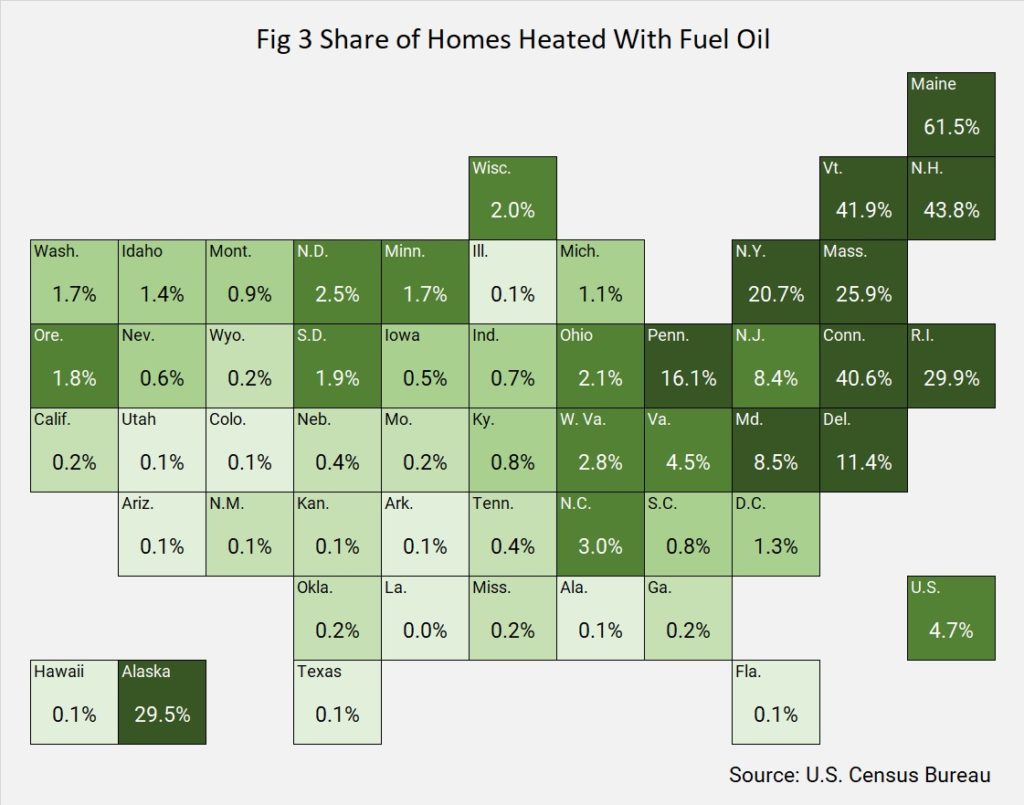 The result here is quite striking. In most of the country, the use of diesel oil for heat is quite rare. Natural gas providers made big pushes to convert to gas, and succeeded in making fuel oil a rarity in most states. But the Northeast continues to rely very heavily on fuel oil and, as seen in Figure 1, correspondingly less on natural gas. Interestingly, the states that produce and process the most petroleum in the country—Texas, Louisiana, Oklahoma, California—use very little of it for heating.
Finally, we come to the prehistoric favorite, which is still with us. Figure 4 shows the share of homes heated with wood.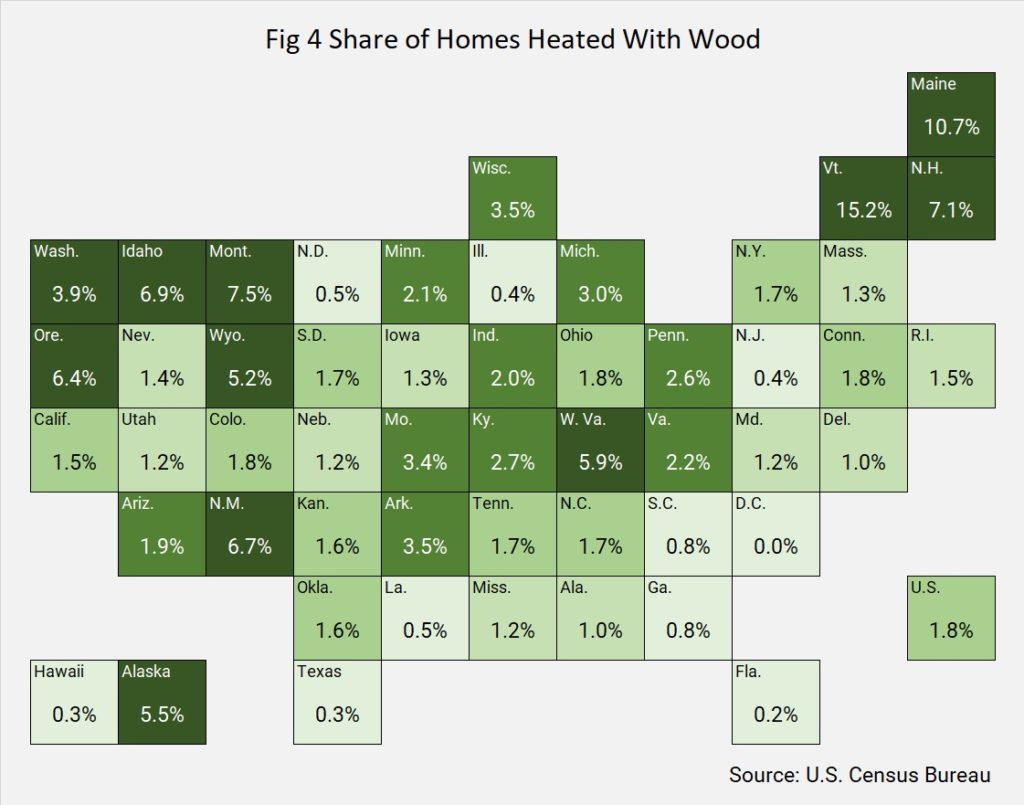 Wood burning had a bit of a renaissance in the 1970s as fuel prices rose. But relaxation of fuel costs and shifts to natural gas, combined with concerns about particulate air pollution, have made wood heat relatively rare, except in a few notable places. Wood heat is still relatively common in New England and the Northwest.
Doing a quick add-up of the shares for Hawaii shows that the four sources account for only about 33 percent of households. Another 5 percent of houses in Hawaii use propane, solar and a few other sources, but 62 percent of homes in Hawaii have no heat at all. On the one or two nights a year in Honolulu when the mercury dips below 60 degrees, the locals can probably scrounge up another blanket.
Looking Ahead
While there may be viable national strategies for many areas of energy transformation, home heating will require regional solutions. Areas of the country have very different infrastructure and energy distribution systems for home heating, and different consumer expectations. Shifting the country over to clean electric-based heat will not be simple.