One of the unexpected outcomes of the economic turmoil of the past year has been the rapid growth in housing construction, especially single family homes. The year began with the continued drive of Millennials into prime family-formation age brackets, providing early tailwinds to the industry. A pandemic-driven push out of central cities, however temporary it may prove to be, added momentum and the homebuilding industry responded.
Nationally, single family home permits hit 1.4 million last year, a level not seen since 2006. Figure 1 shows an index of permit activity for the past five years, based on permits issued in 2016.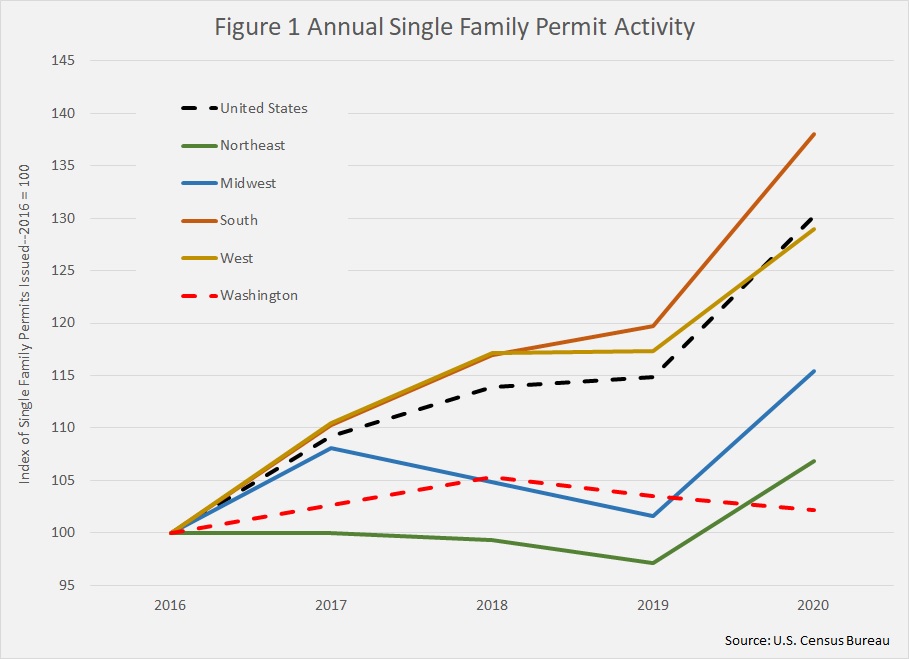 All of the subregions of the country, including the slow-growing Northeast, saw an increase in single family permits in 2020 over 2019. But, somehow Washington State missed the memo. Single family permits in the state peaked in 2018 and have been trending down ever since.
Figure 2 shows which states in the West have participated in the broader national trend of increased single family permitting activity in 2020.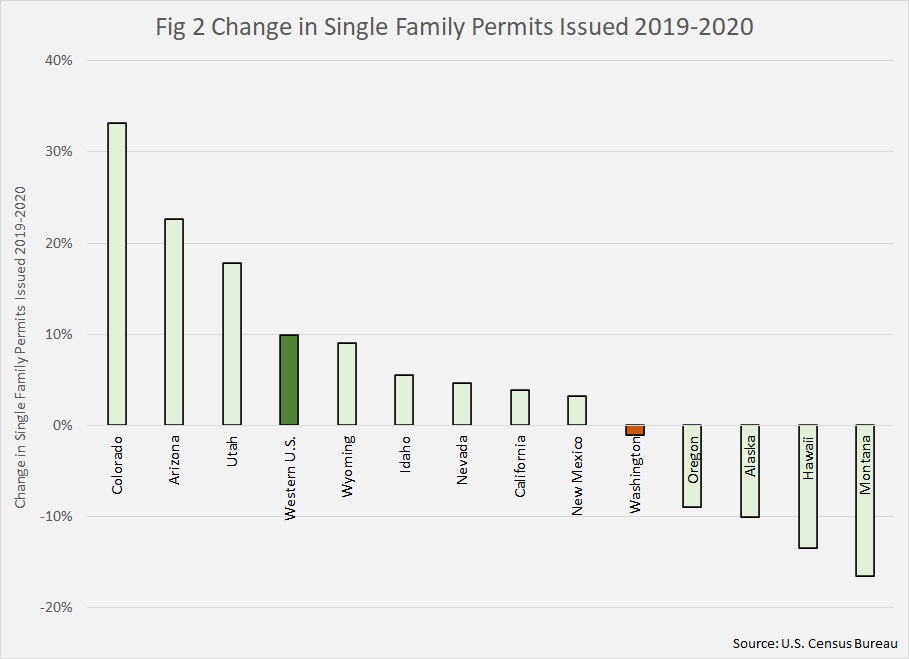 Oregon saw an even larger drop than Washington. The much smaller states of Alaska, Hawaii and Montana also saw drops, but this is understandable given their dependence on visitor industries that were largely shut down last year, crimping any overall optimism that may have been driving homebuilding elsewhere in the West.
It is worth noting that, even with the jump in housing production in the West in the past five years, the region is still underproducing single family housing compared to past decades. The West added an average of 265,000 homes per year during the 1990s and 278,000 per year during the 2000s (including both the overbuilding and the crash). In the past ten years, states in the West have averaged only 165,000 new single family homes per year.
Figure 3 shows the change in permitting for Washington's metro areas over the past year. Metro areas encompass at least one county.
Only one metro area, the Tri-cities (Benton and Franklin counties), saw an increase in single family permit activity, while all other metro areas saw a decrease.
Looking Ahead
Housing prices increased by double-digits in most of the state in 2020, with the largest increases coming in the more affordable areas. While the median price of a single family home went up "only" 11 percent in King County, it went up 17 percent in Pierce County, 16 percent in Snohomish County and 13 percent in Kitsap County. While the pandemic may have shifted some migration patterns, there is clearly still demand to live in Washington State, and the lack of homebuilding will ensure that prices continue to rise. Falling apartment rents in Seattle will be of little comfort to those looking to buy a home.