Few businesses rely on optimism as much as homebuilding: invest large sums of borrowed money to build very expensive products that won't be ready for final sale for months. The industry could be forgiven for taking a breather as the uncertainties of coronavirus play out.
Instead, builders seem to be getting back in the game after two months of slower activity. Figure 1 shows the seasonally adjusted national trend in housing starts over the past 13 months, ending in June 2020.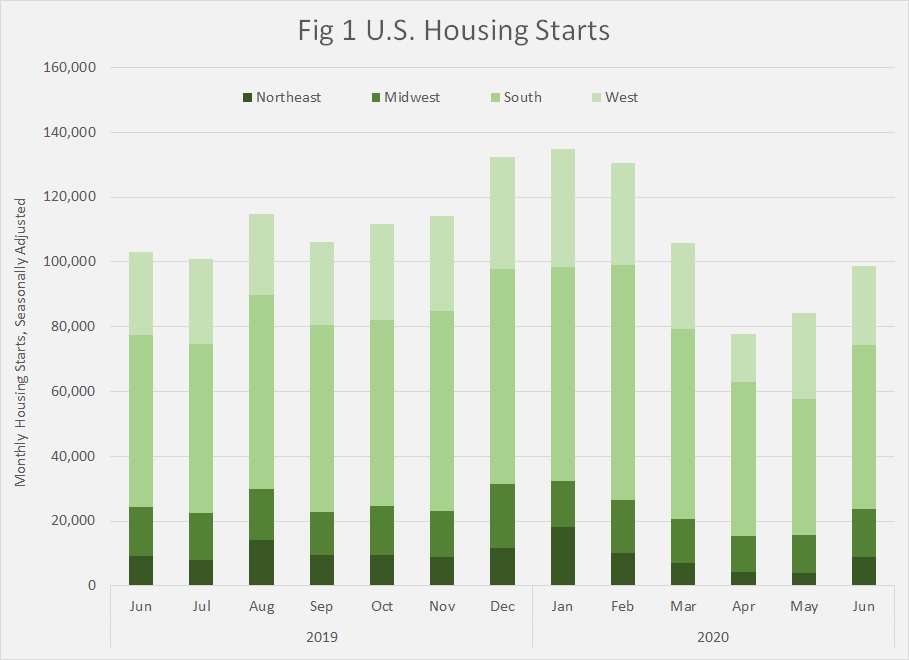 June through November of 2019 the industry started between 100,000 and 120,000 units per month, and then gathered steam in the next three months. Then, as with the pattern seen in other sectors, things fall off in March and hit bottom in April.
Now, at this point we might expect to see a prudent industry stay at low levels until the timing of an economic recovery is clearer. Instead, housing starts picked back up in May, and by June were almost at their June 2019 level. It appears that once construction sites could open back up, the industry went back toward business as usual.
Figure 2 shows this same time period for the western U.S., breaking out single family and multi-family.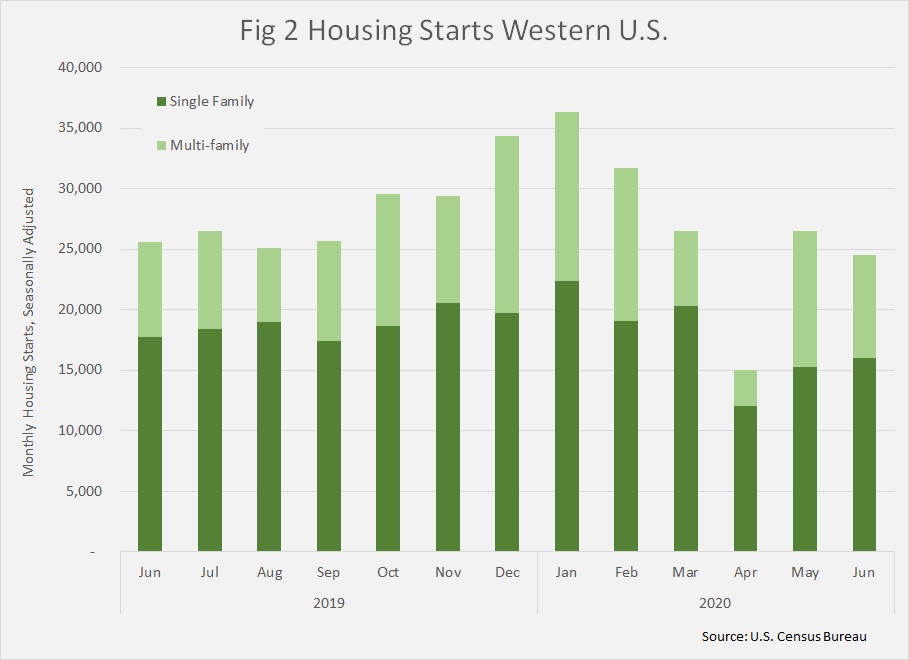 We see a sharper drop in multi-family starts: many of these projects would be located in large urban areas that experienced earlier shutdowns. But those projects pick back up in May and June, to levels comparable to 2019. Single family starts remain lower, but not dramatically so.
Why the optimism amid all the uncertainty? We can speculate on several causes:
Demand for new housing has not been hit all that hard. Economic pain has been felt mostly by people who tend to be renters rather than potential buyers. And for the rental market, apartment projects in the West lean toward mid-level and luxury product, so the target market for these projects would have been less affected.
Single family builders may be betting that the return to lower density, suburban and exurban living, which has been just anecdotal at this point, is real and will persist.
The easy money policies of the Federal Reserve have brought interest rates to very low levels that will stay low for a while, making homeownership more attainable.
Coronavirus does not alter the basic demographic fact that the Millennial generation is now in the prime age bracket for family formation and many young people will be looking to move out of their hipster urban setting into more traditional settings for family life.
Investors seem to back up this optimism. The stocks of the nation's two largest homebuilding companies, DR Horton and Lennar, are trading at all time highs this week.
Whatever the motivation for the homebuilding industry, the relatively modest drop and quick recovery in activity marks one more way in which the current downturn differs from those in the past.
Looking Ahead
Homebuilding will not likely lead the nation out of the slump this time. The industry has never really gotten back to the levels of production of a generation ago, and the many structural barriers to building remain in place. But it appears that homebuilding will not be a drag on economic activity, either.
We could see one possible silver lining from the labor dislocations of the past several months. Some workers laid off from hard hit sectors could shift into homebuilding trades and ease the labor shortages that have plagued the industry in recent years.