Workplaces have become far safer over the years. In the early part of the 20th century, as the industrial revolution was reaching its peak, over 60 out of every 100,000 workers was killed on the job each year. That rate has fallen to about 3 worker deaths per 100,000 workers today. But each worker death is one too many, and it is worth considering the safety of today's workplaces.
Figure 1 shows the number of worker deaths in Washington (left axis) and the rate of worker deaths (right axis) since 2010.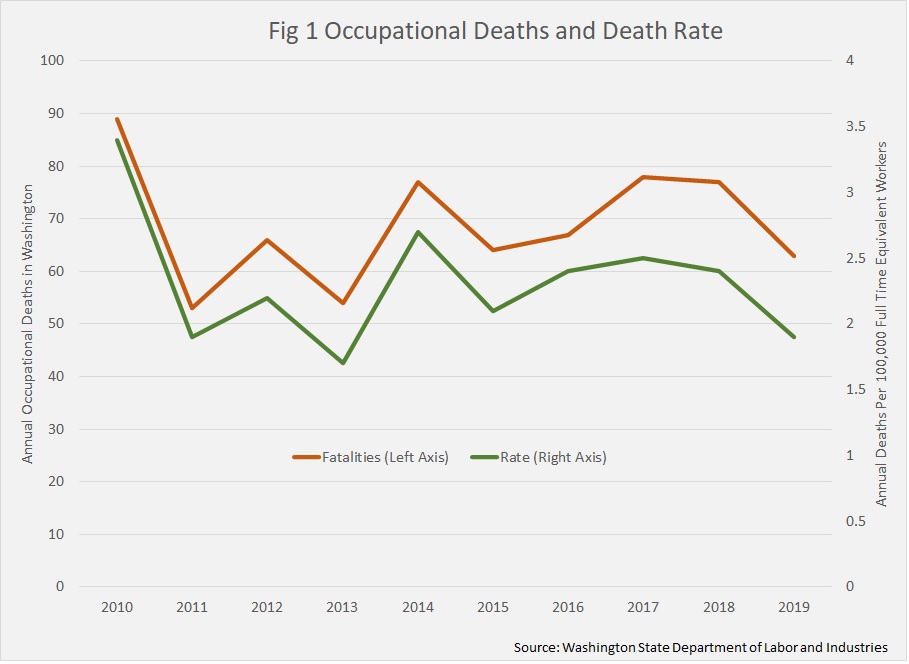 There is no obvious trend here. What we have is a classic case of the law of small numbers. There are just not enough occupational deaths in any year, as a share of all workers, to draw much in the way of conclusions. A few more unfortunate incidents in one year can bump up the death rate, but those isolated incidents cannot be extrapolated into trends.
Figure 2 shows occupational deaths by broad sector of the economy.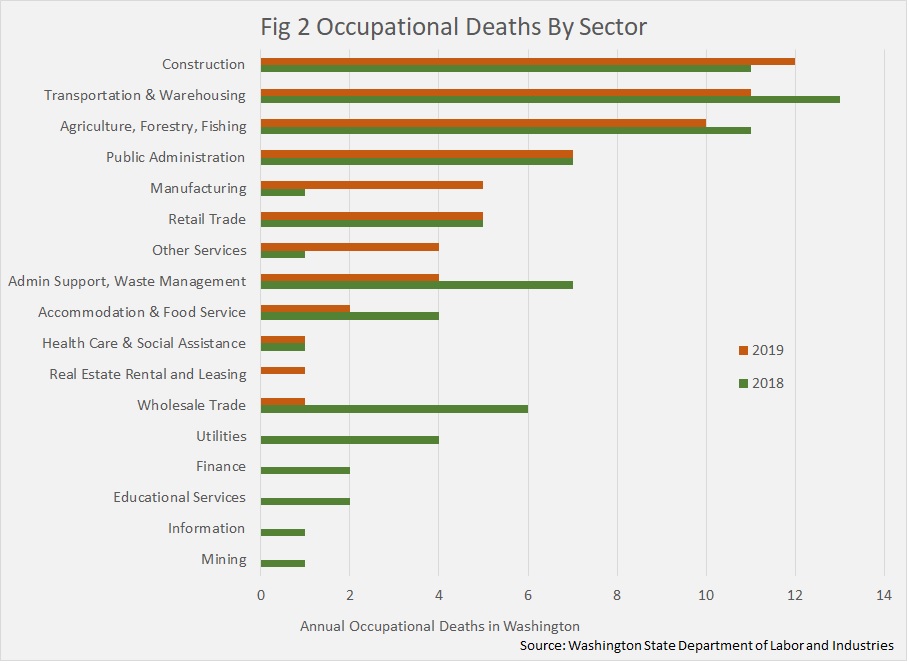 This provides some more useful information. The Construction industry saw the highest number of deaths in 2019 and the second highest in 2018. Transportation and warehousing and agricultural and natural resources industries are right up there. But both natural resource and transportation sectors each have about 100,000 workers in the state, while construction has about 200,000, so the death rate for construction (about 5 in 100,000) is about half of the other two (10 in 100,000).
Public administration includes both police and fire occupations. In 2018 two police officers were killed in the line of duty, and in 2019 four officers were killed in the line of duty. There are about 11,000 uniformed law enforcement officers in the state, which results in a death rate of 18 per 100,000 in 2018 and 36 per 100,000 in 2019. Nationally, in 2019, 136 police officers were killed in the line of duty, with a rate of about 17 deaths per 100,000 officers.
Most sectors have so few deaths each year, and such variation, that we cannot meaningfully assign death rates.
Figure 3 show the causes of injury for occupational deaths in Washington.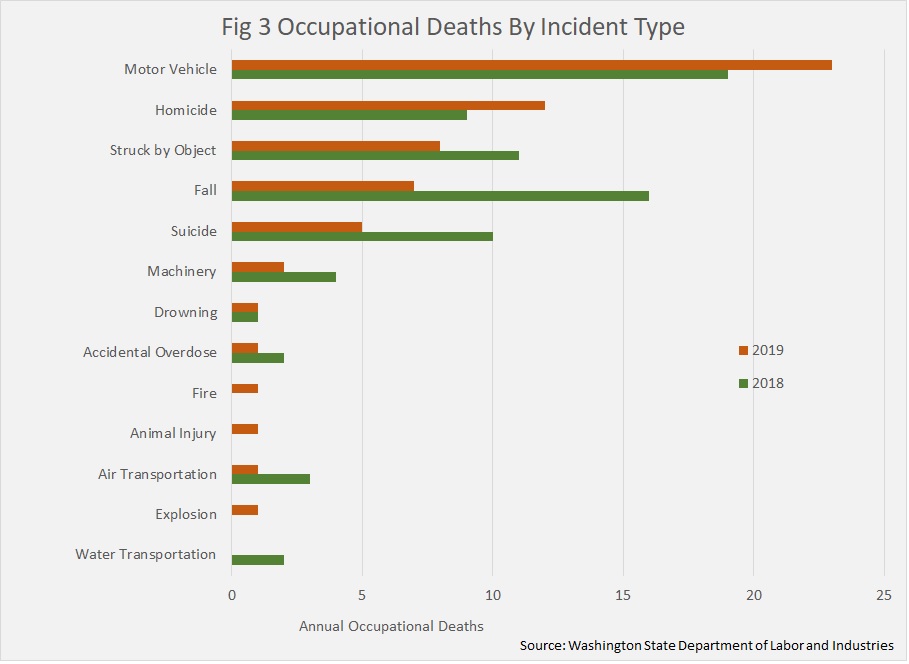 Between one quarter and one third of occupational deaths involve motor vehicles. This can obviously involve the transportation industry itself, but almost any other occupation can, at some point, require workers to be in and around vehicles. Homicides can involve public safety officials, but there are other incidents of workplace homicide. Interestingly, some causes of injury or death that we might be concerned about—drownings, fire, explosions—are quite rare, with zero incidents in some years.
Washington's economy was based for much of its history on industries that are quite dangerous: logging, ocean fisheries, shipbuilding. But today the state is among the safest in the country in terms of workplace fatalities. Figure 4 shows workplace fatality rates across the U.S.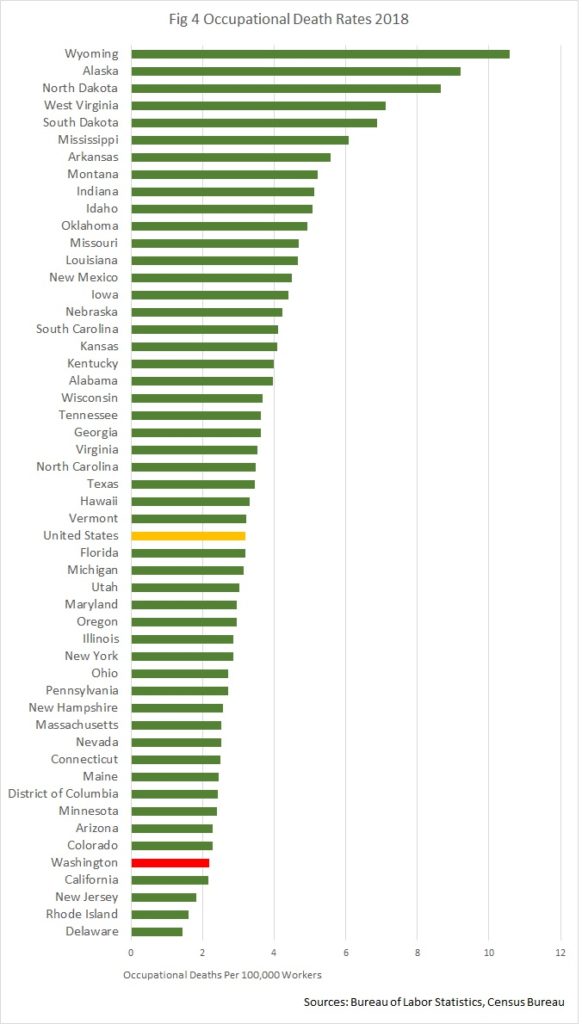 Many of the states with the highest workplace fatality rates have substantial mining and natural resource extraction industries, which remain dangerous.
Looking Ahead
An area of concern going forward is the relatively high death rate in the transportation sector, and the rapid growth in that sector, especially through e-commerce. Warehouses are inherently dangerous places, with movement of vehicles, robots and heavy objects. The more long-haul truckers and local delivery drivers we have, the higher the likelihood of fatal accidents.