Recent calls for reductions in police department budgets raise the question of just how much those budgets have been growing. Have we been spending more on police services? Not really, when considering inflation and population growth in the larger cities around the county. Seattle itself has seen a significant drop in real per capita spending on police operations.
Trends in 10 Cities
We will look at the expenditures for police service reported by the 10 largest cities in King County, which contain about 70 percent of the county's population. We will use data from the Office of the Washington State Auditor, which compiles revenue and expenditure data from local governments using Budget, Accounting, Reporting System (BARS) accounts uniformly across cities. This allows for comparisons of actual expenditures, as opposed to annual budgets. We will look a expenditures for 2010 and 2017, the latest year available. Eight of the cities have their own police departments, and two, Sammamish and Shoreline, contract with the King County Sheriff for police service.
Figure 1 shows the inflation-adjusted growth in total police services spending in the cities. Total spending includes five primary categories: administration, police operations, crime prevention, training and traffic policing.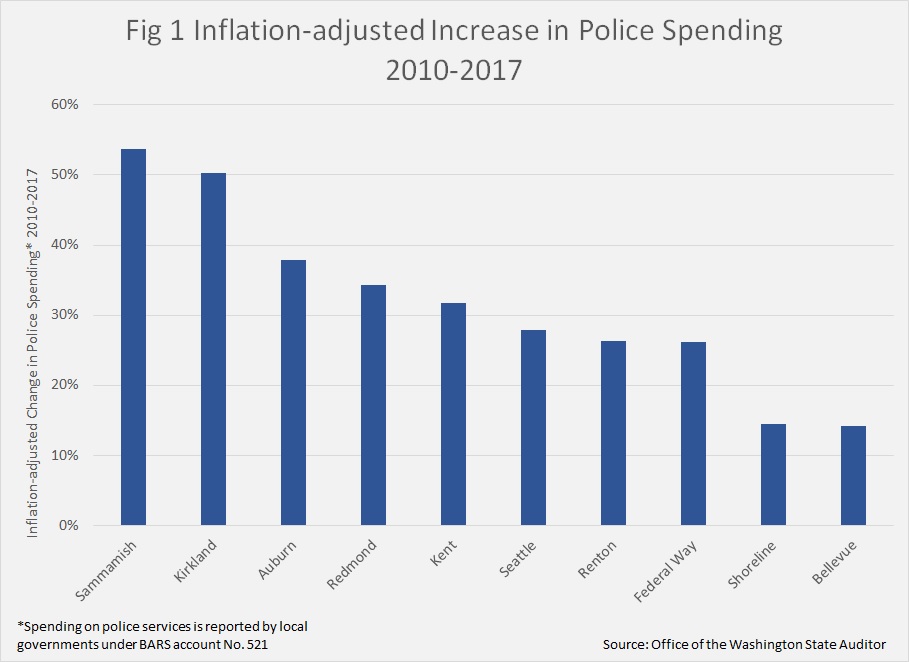 There is substantial variation in expenditure growth rates across the cities. Some of this variation can be attributed to sudden population growth. During this time period, Kent and Kirkland absorbed large, mostly residential areas through annexations.
Figure 2 shows the change in per-capita spending for each city, adjusted for inflation.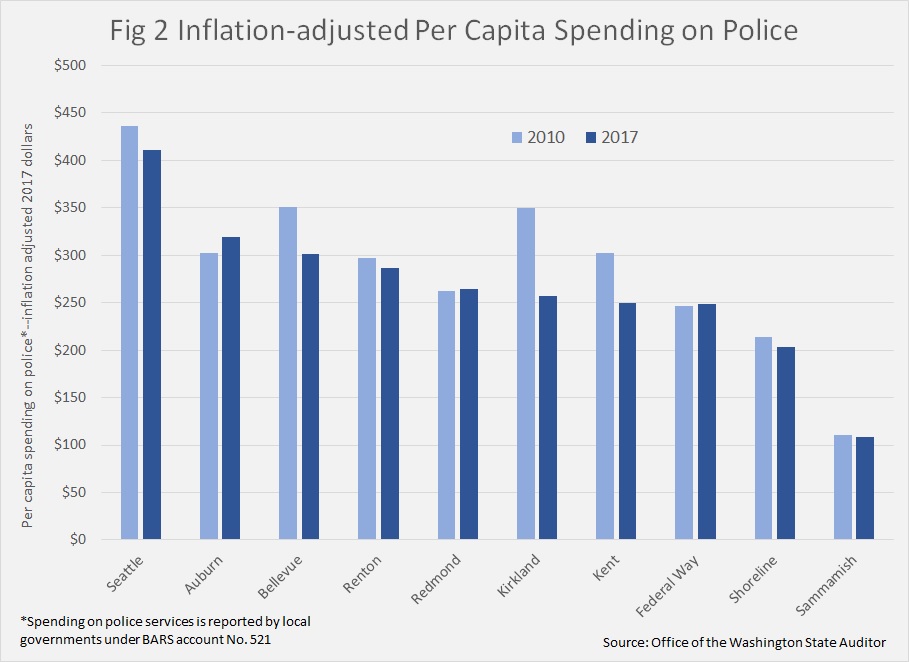 Five of the ten cities saw measurable drops in real per capita spending on police services during this time. Across this group of ten cities, real per capita police expenditures fell by 8 percent from 2010 to 2017.
Some of the drop can be attributed to the nature of growth in these cities (i.e. the increase in the divisor in the per capita calculation). The growth that some of these cities were experiencing does not bring with it a large demand for police services. Most of the growth in Seattle and Bellevue was in mid-rise and high-rise apartments, which do not require much additional service. The Kirkland and Kent annexations included large single family residential areas that do not require heavy patrols.
The largest category of spending within police departments is police operations: basic police work, exclusive of traffic enforcement. Figure 3 shows the relationship between total public safety spending and police operations spending in 2017.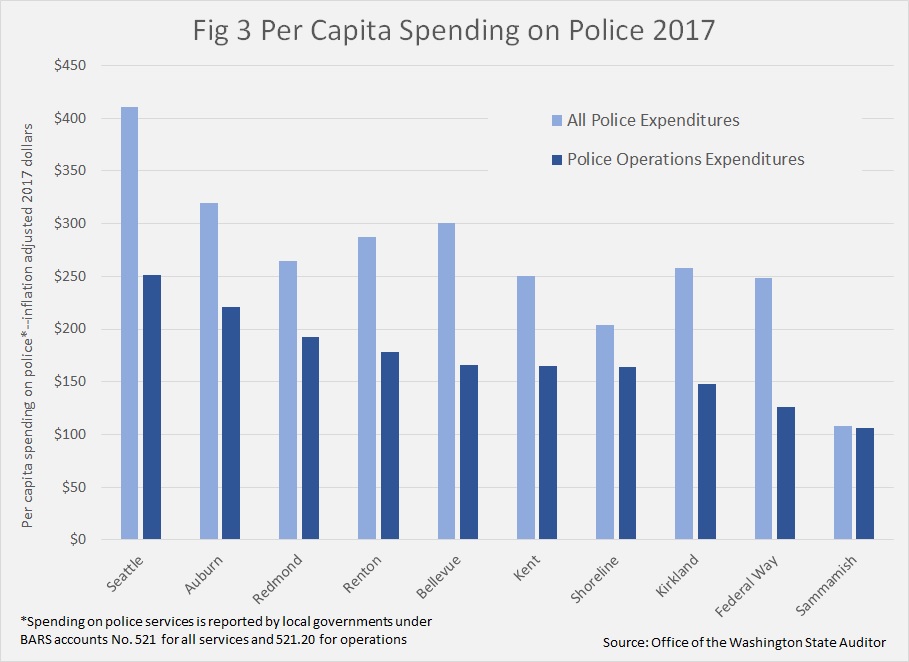 There is quite a lot of variation here as well. Residents of Redmond support nearly twice the police operations expenditure as their immediate neighbors in Sammamish.
Trends in Seattle
In Seattle, the gap between total public safety spending and spending on police operations grew between 2010 and 2017. During that time, spending on administration grew 23 percent in real terms, training grew 46 percent and crime prevention grew 73 percent while police operations grew only 3 percent after adjusting for inflation.
On a per capita basis, spending on police operations fell from 2010 to 2017. Figure 4 shows inflation adjusted per capita spending on the five BARS accounts for law enforcement for Seattle.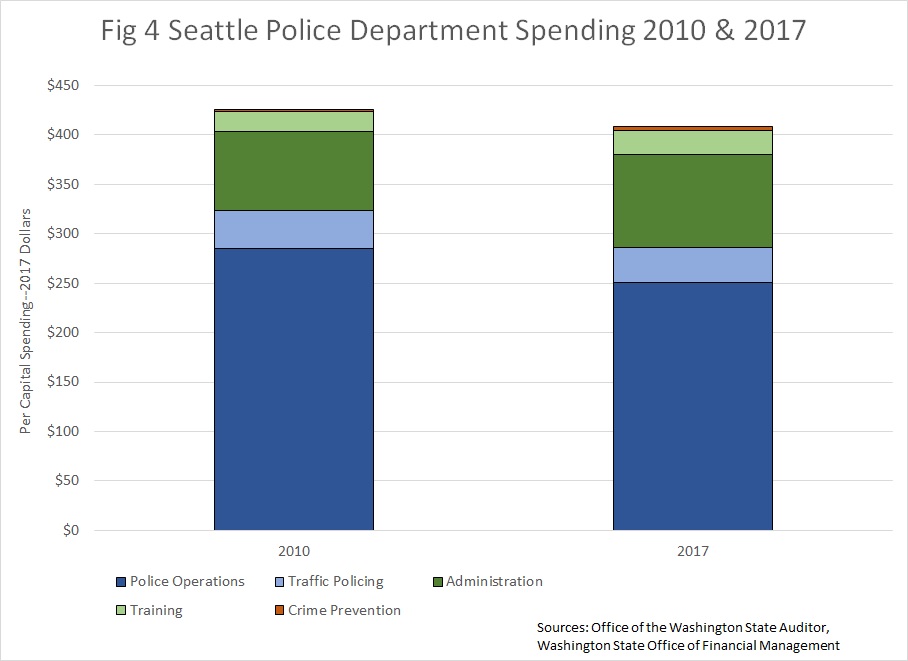 Per capita spending fell by 12 percent for police service and 6 percent for traffic policing, while increasing 16 percent for administration and 25 percent for training. Adjusted for inflation, City of Seattle spending on all law enforcement fell from 31 to 23 percent of total general fund spending, and police operations fell from 20 percent of all general fund spending to 14 percent. Seattle did have a catch up in spending in 2018 when their union contract was renewed and officer pay increased. But while this increased spending, it did not reverse the decline in police service: the number of residents per uniformed officers increased from 453 in 2010 to 514 in 2018.
Looking ahead
Per capita spending is not a particularly helpful measure of the adequacy and effectiveness of police service. The need for policing is determined by many other factors that are independent of the size of the population of a jurisdiction. Per capita spending is, however, a useful measure of the priorities of residents and taxpayers. As debates over police funding move forward, it is helpful to understand the wide variation in current police spending around the region, the growth of that spending, and the relative position that public safety has within community priorities.