The San Francisco Bay area has been hit by the Pandemic and now faces the newly aggressive stance of Congress and regulators toward its signature technology firms. A region that had been flying high for decades suddenly seems to have hit a slump. Is it contagious? Is Seattle's social distance of 700 miles enough?
Last week we looked at three metrics for the challenges that San Francisco is experiencing—unemployment, job growth, office space vacancy—and how the Seattle area measures up on those metrics. This week we will look at three more metrics: consumer spending, apartment rents and city government revenues.
Consumer spending
Opportunity Insights, a think tank at Harvard University, has been publishing consumer spending data from Affinity Solutions, based on credit and debit card use. This data arrives on a weekly basis, by city, county and state. It is important to note that the data describe spending based on the home address of the consumer. This will tend to understate the impact of the major downturn in travel spending on a place like San Francisco with a large visitor industry. Figure 1 shows the change in credit and debit card spending by residents of San Francisco (just the city itself) the Seattle area (defined as King County), as well as the national average, for seven categories of spending.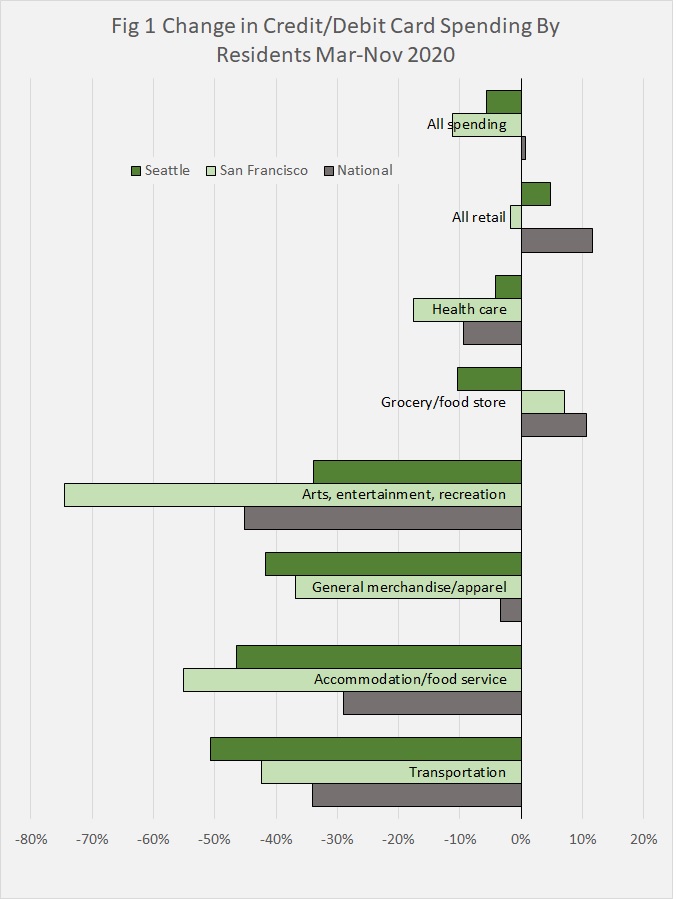 For the nation as a whole, credit card spending was slightly higher in November than in February, although some of the spending is due to a shift from cash to plastic. Still, overall national spending has almost recovered from the pandemic dip. The same cannot be said for Seattle and San Francisco, with spending by residents in the latter still down 10 percent, even with the shift to plastic.
San Francisco resident spending has fallen more than Seattle in most of the categories. Notably, spending in the leisure categories of arts and entertainment, and accommodation and food service, is way down among San Francisco residents.
Apartment rents
For many years, San Francisco has has had the highest apartment rents in the country. As rents in the Bay area have fallen by double-digit percentages—22 percent year over year in December—the gap has begun to close. Figure 2 shows the year-over-year changes in rents in submarkets of the San Francisco Bay Area and the Seattle area for one-bedroom apartments.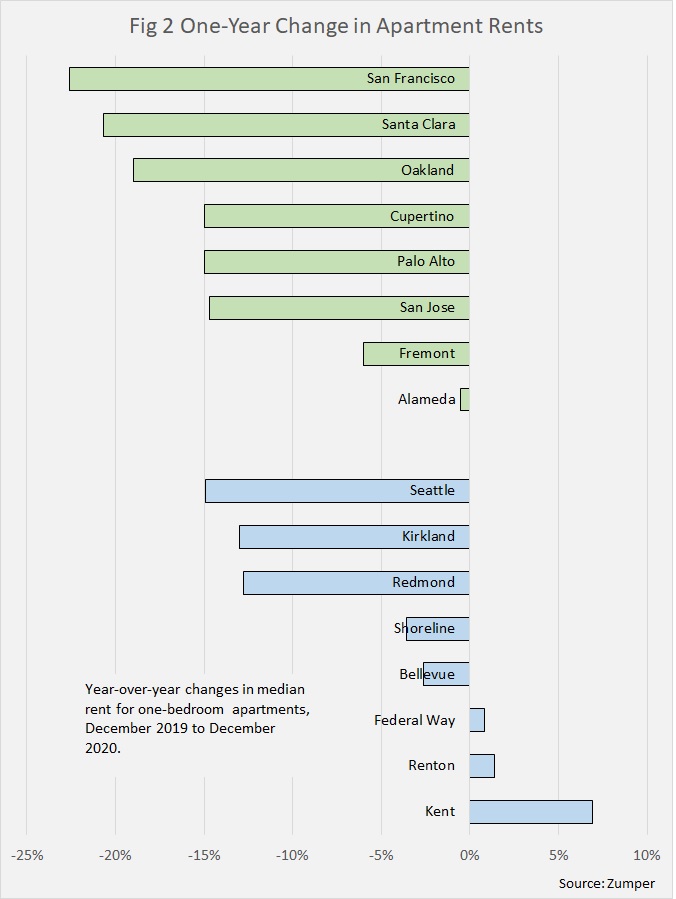 Both metro areas are seeing widespread drops in median rents. And in both areas, the more affordable submarkets are seeing the least drop, or, in the case of several South King County markets, increases. Among the larger metro area markets in the country, San Francisco has had the largest area-wide one-year rent drop and Seattle has had the second largest drop. The December one-bedroom median rent was $2,700 for San Francisco and $1,540 for Seattle.
City tax revenues
The pandemic has cut into local government tax revenues. Some taxes, such as property taxes and utility taxes, remain relatively stable. Others, such as sales and business taxes, are far more volatile. Figure 3 shows the projected changes in city revenues for San Francisco and Seattle. Comparisons are a challenge due to different tax structures and different fiscal years.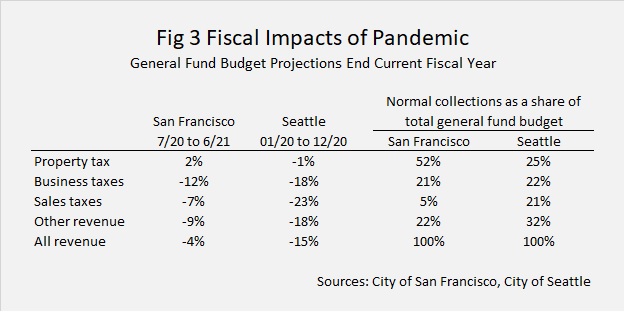 It appears that San Francisco will not be hit as hard as Seattle in the revenue department. That is largely due to San Francisco's much higher reliance on property taxes which are actually projected to grow slightly during the year. Seattle's heavy reliance on business and sales taxes, both of which are subject to the direction of the economy, puts it in a more difficult position.
Looking Ahead
There is, indeed, a family resemblance between the ailments of San Francisco and Seattle. Both metro areas are seeing job loss and business loss, and are showing signs of population loss. But both areas were growing very fast in terms of incomes and wealth, and as one of the Indexer's favorite principles, "Stein's Law" reminds us, that which is unsustainable will eventually stop.
We are still in the early stages of pandemic-driven changes in urban economic geography, and the pattern for a new long-term spatial equilibrium is still way out in front of us. But we may be seeing a chink in the armor of the "superstar city" principle that suggests that regions driven by technology-based businesses can keep growing indefinitely in qualitative terms (incomes and wealth) if not necessarily in quantitative terms (population).
Have we seen Peak San Francisco? Is Peak Seattle upon us?