When you are confined your home, you can't do much driving and you won't buy much gasoline. In just two weeks in March, national gasoline sales plummeted from 9.7 million to just over 5 million barrels per day, a drop of 47 percent.
But as with other kinds of consumption, gasoline sales are recovering quickly and are now within about 10 percent of normal for the season. The chart shows national gasoline sales (daily sales averaged over one week) since March, compared to sales in the same period in 2019.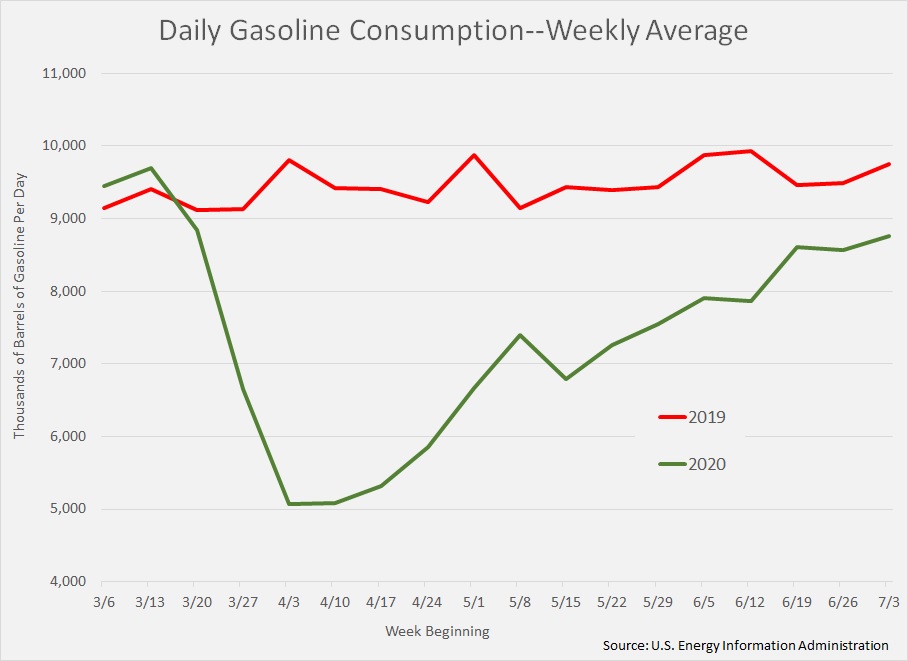 Gasoline sales are typically lowest in January and peak in August, as American's head out on summer road trips. Sales in the U.S. are now well above the January low, and headed for the annual average.
As gasoline sales dropped rapidly, refiners did not slow operations right away, and stocks of gasoline rose quickly. On average, there are about 30 million barrels of gasoline in storage (anywhere from tank farms to your local station) on the West Coast. In March, over 35 million barrels of gasoline were in storage, but stocks have now fallen to 29.5 million barrels.
It will be some time before we know if driving habits have changed permanently, or whether car owners will just go back to their old driving habits. Continued work from home will cut into driving, but that will be offset to some degree by increased driving by those avoiding public transit. And most trips are not commutes, so as we go back to running our usual errands, the roads and freeways will begin to fill up again.