One likely outcome of the coronavirus crisis will be a new set of criteria for where people will want to live. Even if the current virus gets under some reasonable level of control, it seems probable that there will be another virus episode in the years ahead. After all, there have been four scary epidemics in the past 20 years: SARS, MERS, Ebola and novel coronavirus. At least some people will look for places for their long term home that are smaller, less dense and less globally connected, in the hope that they can minimize future risk.
What might be candidates for consideration? Let's look at four mid-sized Western metro areas that have already been growing well ahead of the national pace: Provo, Utah, Colorado Springs, Colorado, Boise, Idaho, and Spokane. These are all inland, Mountain-west areas are known for their recreation opportunities and relatively low costs.
Figure 1 shows the size, growth rates and ranks for these metro areas.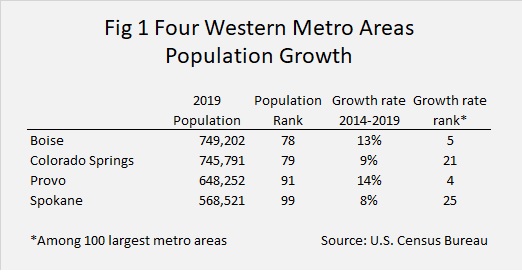 Each features a solid higher education presence. Although only Brigham Young University in Provo has a significant research reputation, the other institutions do provide the many workforce, economic and quality of life benefits that come with higher education. Incomes in the four metro areas are lower than would be found in the larger metro areas of the West. Figure 2 shows basic measures of income, with the Seattle metro area as a comparison.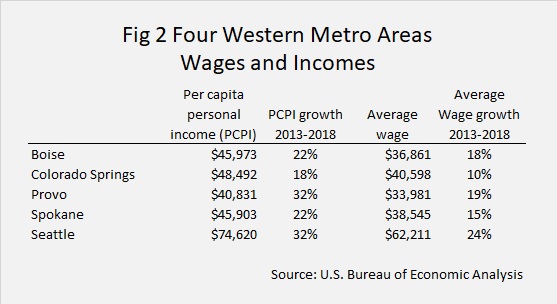 Average wages and incomes in these cities are not particularly high. But those wages and incomes can purchase a lifestyle that would be far more expensive in one of the coastal metro areas. Figure 3 shows some measures of affordability and quality of life.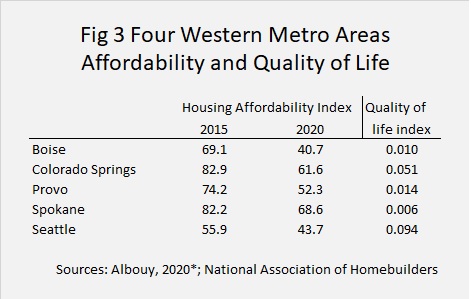 The housing affordability index is compiled by the National Association of Homebuilders, and indicates the percentage of homes sold that would have been affordable at the median household income. So, anything above 50 indicates a favorable market. All of the four metro areas have seen some deterioration in affordability over the past five years, which is not surprising given their relatively high levels of growth. But only Boise has seen its affordability index dip below 50. Seattle, even with its very high incomes, is less affordable than three of the metro areas.
The quality of life index is derives from work by David Albouy 1 at the University of Illinois. His index is a measure of "willingness to pay." Working from incomes and costs, Albouy calculates how much a resident is implicitly willing to pay, in terms of lower wages and/or extra housing costs, for the amenities that a community offers. An index above zero indicates that homeowners have paid extra to live in that community. The index ranges from a negative 0.188 in Brownsville, Texas, to a positive .208 in Honolulu. So, all four of the metro areas offer amenities and quality of life features that people are willing to pay extra for. The Albouy calculations are from data in the 2010s, so the deteriorating affordability in all four markets (prices rising faster than incomes) indicate that the willingness to pay has increased.
Looking ahead
The coronavirus lockdown has challenged basic assumptions that have driven urban economics for the past several decades. It has been assumed that firms will cluster together to take advantage of agglomeration economics. That is, seek out areas with thick labor pools they can draw on. Workers have responded by flocking to places like San Francisco, San Jose and Seattle. But if the work-at-home, Zoom meeting experience has broken those assumptions, both firms and workers in technology businesses may feel that moving to a smaller community will not be threatening to their business or their career. It will be many years before we know if the new styles of work have stuck, or if firms and workers go back to their original patterns.
The crisis has also upended the entire "experience economy" that has evolved over the past few decades. As physical goods have become less expensive and tastes have changed, consumers with disposable income have been shifting spending to experiences. But many of those experiences involve crowds, indoor spaces and other features that make them feel far less safe at a time when the spread of virus is a fear. The experience economy is in for a major shift, and likely winners in this process will be places that offer open spaces and outdoor activities.
If these two trends –remote work and emphasis on outdoor activities–persist, the four metro areas described here could see even more interest than they have seen in the past five years.
Albouy, D. and Stuart, B.A. (2020), URBAN POPULATION AND AMENITIES: THE NEOCLASSICAL MODEL OF LOCATION. International Economic Review, 61: 127-158. doi:10.1111/iere.12419