Washington may be among the most trade dependent states, but by another measure of international integration—foreign direct investment—it sits toward the back of the pack.
Foreign Direct Investment refers to business operations that are owned by firms based outside the U.S. The "direct" part indicates that the investment is in an actual business operation—factory, store, bank, warehouse—as opposed to a portfolio investment in a U.S. based firm. The Bureau of Economic Analysis has a bigger mouthful: majority-owned U.S. affiliates (MOUSAs) of foreign multinational enterprises.
MOUSAs may be obvious—a Swedish-owned Ikea store—or less obvious, like the Canadian/Dutch ownership of Puget Sound Energy or the Belgian headquarters of the brewery that made your bottle of Bud.
Just as U.S. multinationals employ millions of workers outside the country—all those Amazon fulfillment center employees—foreign firms employ millions of American workers. According to data released last week, in 2018, nearly 4 percent of U.S. workers were employed in a MOUSA. But these activities are not spread evenly around the country. Figure 1 shows the share of state employment accounted for by MOUSAs.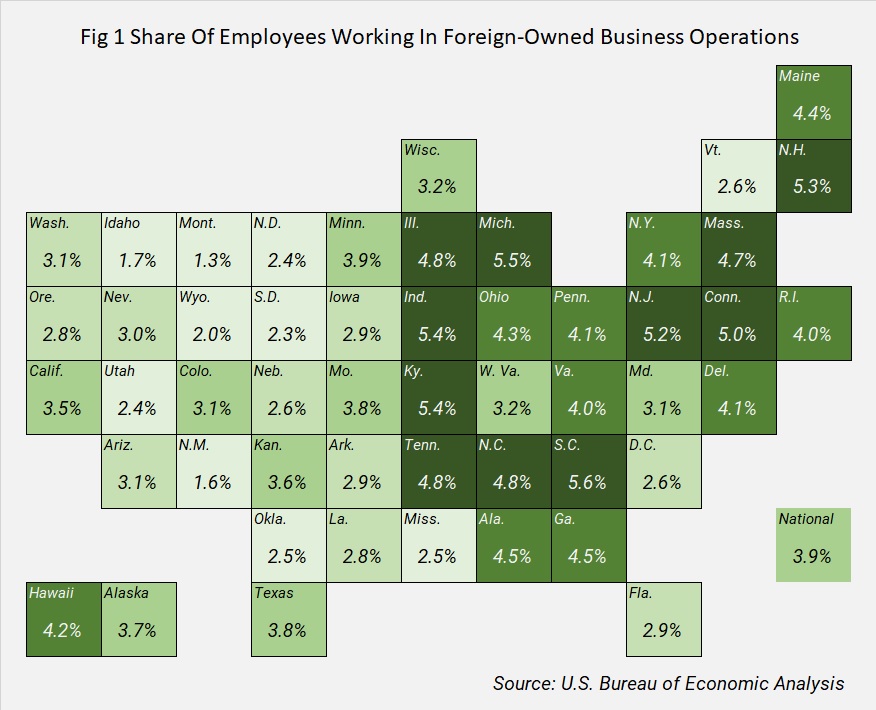 The pattern here is pretty obvious. In the West, only Hawaii, with its Asian-owned hospitality businesses, is above the national average for MOUSA employment. Even Alaska and Texas, with a presence of multinational energy firms, fall below the average. One clue about this pattern comes from the origins of the MOUSAs. Figure 2 shows employment by country of ownership of MOUSAs nationally and in Washington.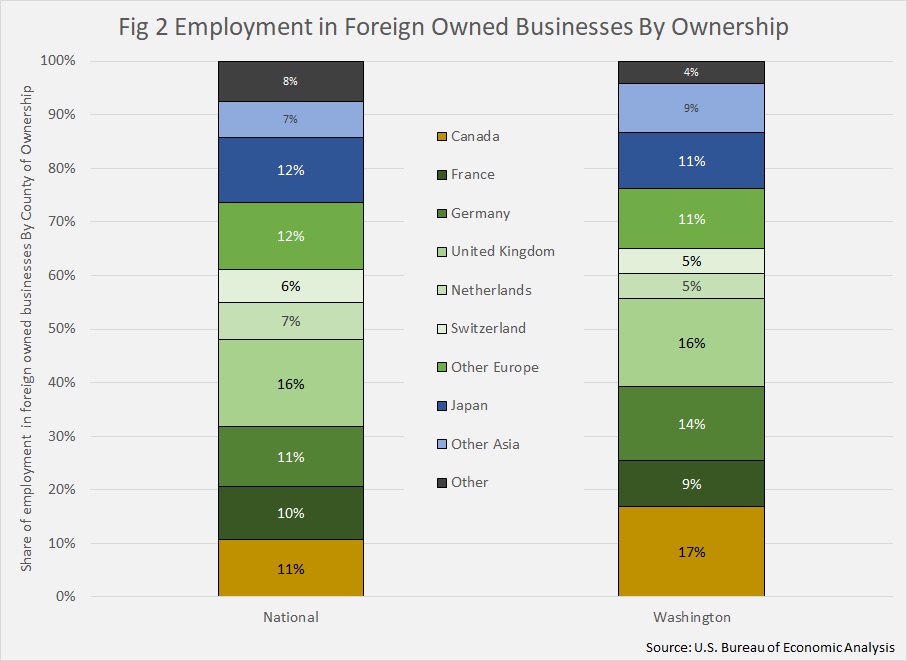 All the green bars represent employment at European-owned firms. These firms account for almost two thirds of MOUSA employment nationally. Many of these firms have been in the U.S. for a very long time, their presence dating back to when the West was not a big market. Or maybe they have just felt comfortable staying nearer their landing point. Asian firms, that we might think would be more attracted to the West Coast, account for just 19 percent of MOUSA employment.
Or maybe it's about industry mix. Figure 3 shows the mix of major industries for MOUSAs.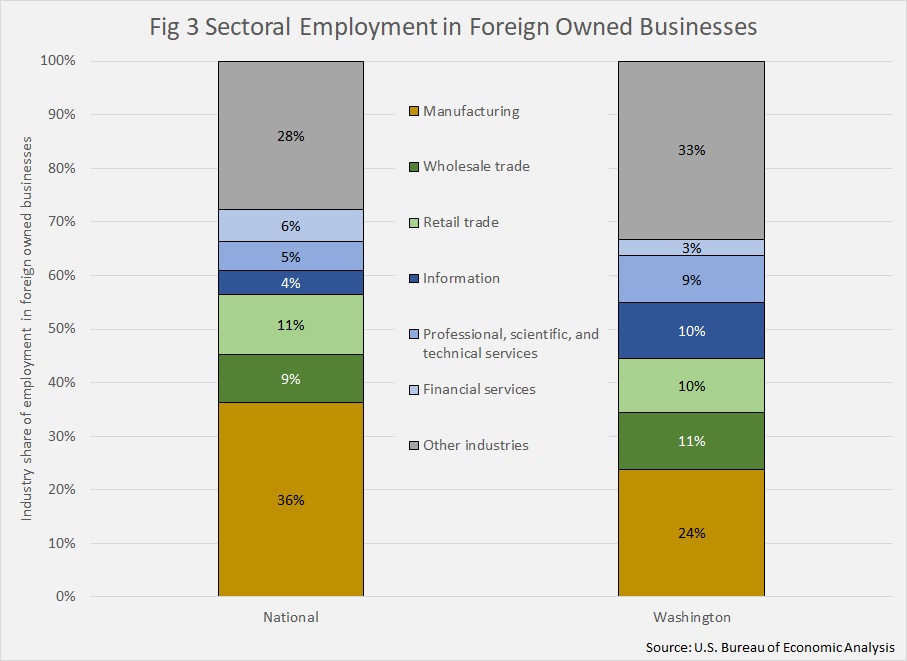 Nationally, manufacturing accounts for 50 percent more MOUSA employment than it does in Washington. The automobile, chemical and pharmaceutical industries, which have a large foreign footprint in the U.S., tend to cluster in the Midwest and Mid-Atlantic regions. Financial services cluster on the East Coast. The information sector, which is overrepresented in Washington, is just not that big a part of the overall MOUSA picture.
Looking Ahead
Foreign Direct Investment has been a critical part of the economic development strategies of many parts of the country, as they have attracted Japanese, Korean and European automobile plants and other manufacturers. With their higher costs and distances from major national markets, Western states struggle to compete for these investments. And the particular economic advantages of the West Coast seem to lend themselves less to the objectives of foreign multinationals. It would be difficult to see how FDI will play a large role in our future.