–The poverty rate for individuals and families has been growing in the Puget Sound region.
–Poverty for children has been growing, especially for children being raised by single mothers.
–Poverty rates vary widely around the region, and school districts are especially challenged to address issues associated with poverty.
The near certainty that the country be in a recession by mid-2020–if it has not already–means that there will increases in the number of individuals and families that fall into poverty. The nation and region had been experiencing gradually rising incomes at the lower level, but that progress will likely come to a halt. Furthermore, many low wage jobs in service sectors will not reappear in the short or medium term, and enhanced unemployment benefits will expire, leaving many people in dire financial condition. But poverty is not new to the Seattle area, and, in fact, has been increasing.
Overall poverty rate* rising
The rate at which the general population lives below the federal poverty line has increased over the past 30 years in most areas of the region. Figure 1 shows the poverty rate for individuals (who may be part of any family or household type) in 1990 and averaged across a five year period ending in 2018. King and Snohomish counties saw their rates rise by one and a half percent. This translates into an increase in the impoverished share of the population of 19 percent in King County and 22 percent in Snohomish County. Pierce County's poverty rate has fallen slightly since 1990.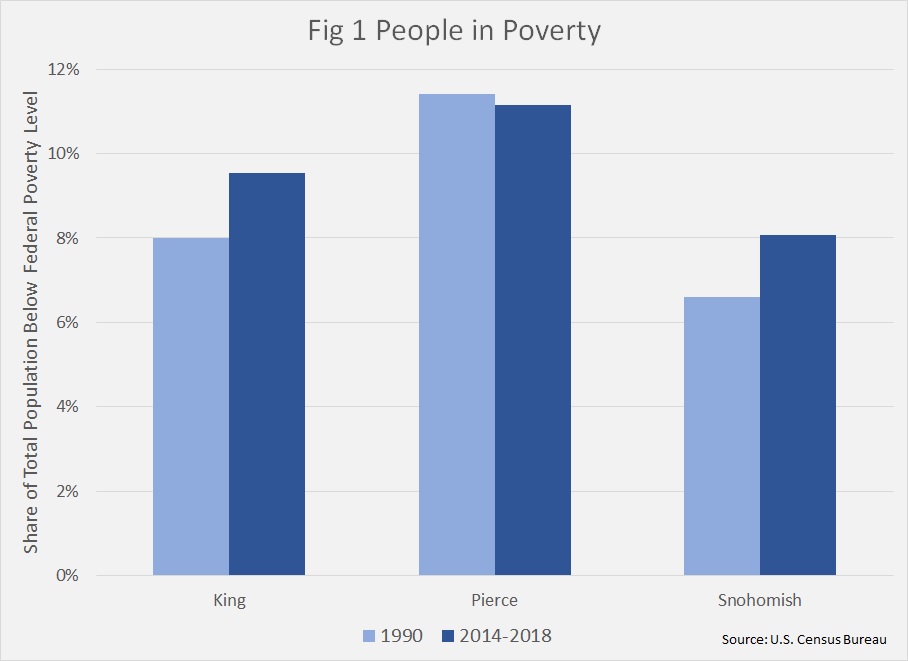 Figure 2 shows the actual numbers of people in each county living in poverty in 1990 and recent years. The number of people in poverty increased by 70 percent in King County and doubled in Snohomish County. Across the three counties, the number of people in poverty has increased by 142,000.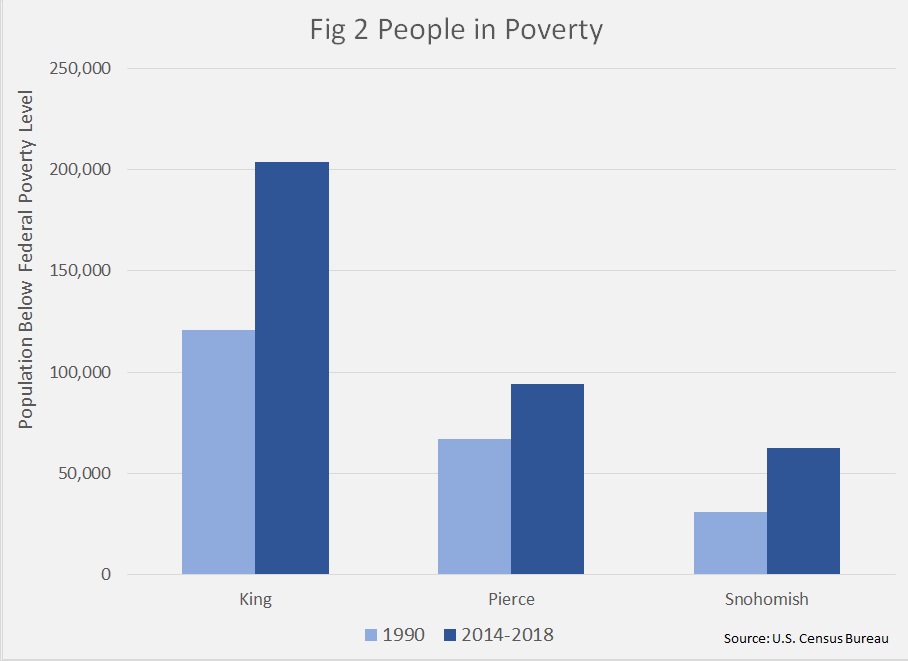 Programs to combat poverty tend to focus on families, which are defined as households with at least two members who are related (that is, families do not include single people and unrelated people living together). Figure 3 shows the change in poverty rates for families in the three counties. The family poverty rate increased in King and Snohomish counties, but decreased in Pierce County.
Nationally, Washington State ranks fairly low in poverty rates for families, but not as low as the state's general prosperity might suggest. Figure 4 shows the ranking of all states for family poverty rates.
Poverty among children
Poverty programs place a heavy emphasis on helping families with children. The basic federal assistance program, Temporary Assistance to Needy Families, is available only to families with children. Figure 5 shows the poverty rate for the two most common types of families with children.
The poverty rate for married couple families with children is below 5 percent in King and Snohomish counties and around 5 percent in Pierce county. This rate has increased only slightly since 1990.
Families with children under 18 that are headed by a single mother, however, experience poverty at far higher rates. Among single mother families in the 2014-2018 period, 27 percent fell below the poverty line in King and Snohomish counties, and 32 percent in Pierce county. The poverty rate for single mother families decreased in all three counties. In 2018, of all families with children under 18, 17 percent were headed by a single mother in King County, 20 percent in Snohomish County and 22 percent in Pierce County.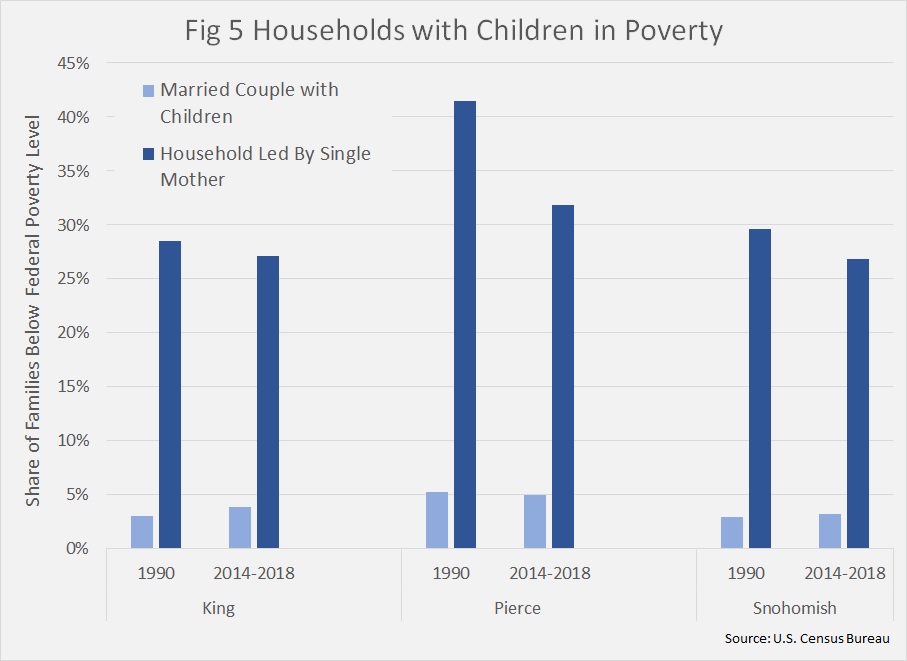 Addressing the needs of children in poverty presents challenges for schools. Incidence of poverty varies widely around the region and poverty will affect some school districts more than others. Figure 6 shows the share of the general population living in poverty in each school districts in the region.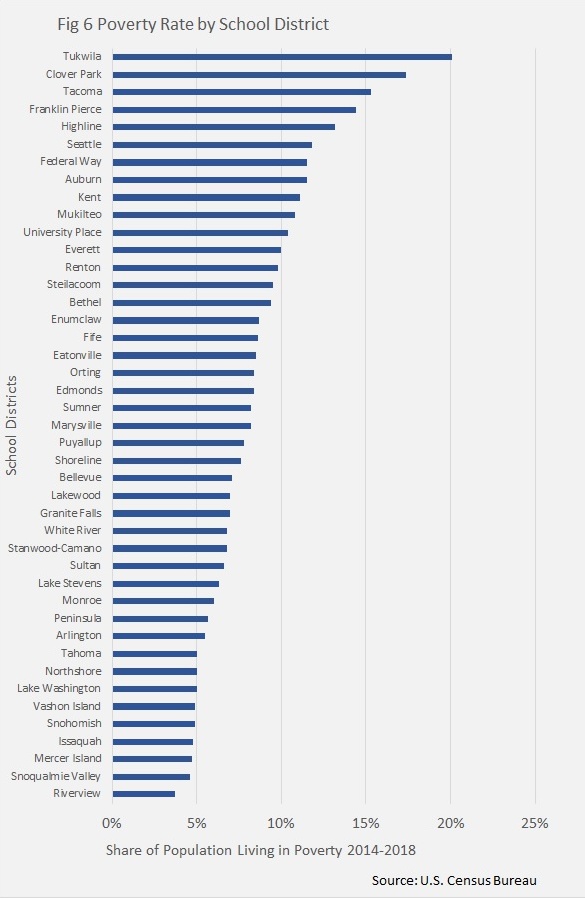 Looking ahead
Poverty has been rising in the Puget Sound area in spite of (or perhaps because of) the region's overall prosperity. A recession in 2020 will exacerbate this trend. Since federal poverty levels do not take into account local costs of living, the effective poverty rate for the region is higher than the federal statistics would indicate. While most traded goods have consistent prices around the country, housing is not traded, and the high cost of housing in the Puget Sound area makes living in poverty that much more difficult.
Questions going forward are:
Will rising poverty in a recession overwhelm an already strained human services infrastructure?
With rising poverty and rising housing prices, can the region ever hope to get ahead of the homelessness crisis?
Can we find ways to address the highly uneven distribution of poverty around the region so that certain school districts are not unfairly burdened?
---
* These data are based on the federal poverty level. The upper bound of the federal poverty level for 2020 is $12,760 for one person, $17,240 for two, $21,720 for three, $26,200 for four. Add $4,480 for each additional person. Levels are slightly higher for Alaska and Hawaii.