Not really. Sort of. Maybe.
The difficulty is, the processes to track employment and unemployment are all incomplete in one way or another, and the best measures have long time lags. Normally this is not a big deal. But now, when there are huge numbers of people still not working, some who have returned to work and many whose status is ambiguous, it would be very helpful to have a detailed picture of who is and is not working.
We won't get that, but we can get some hints. Let's start with what we know, and then go over the plusses and minuses of the data.
Figure 1 shows the most recent information available from the data sources that provide limited information in the short term, and that will be discussed below.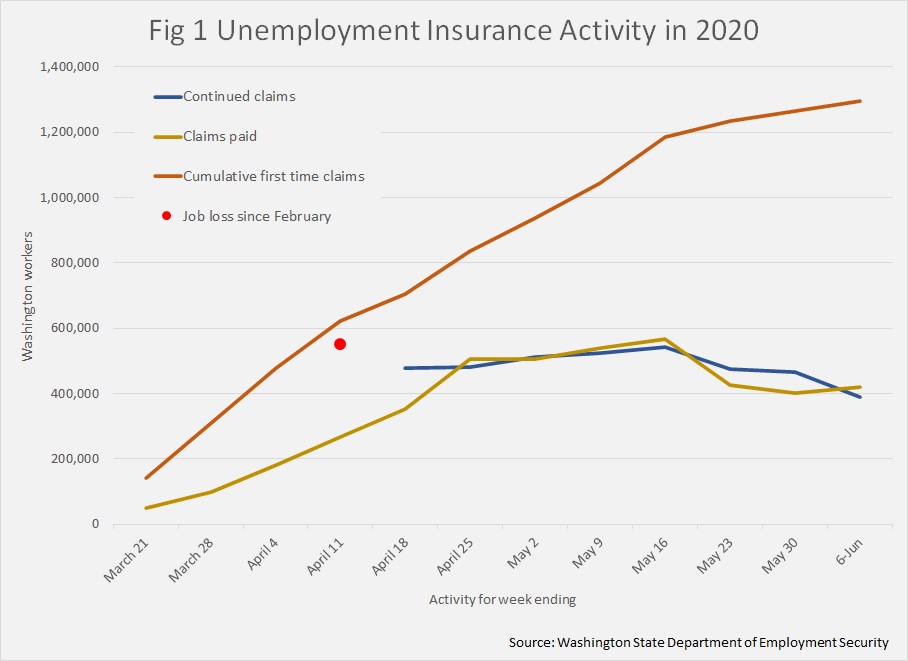 Both continued unemployment insurance claims (valid claims that can be paid) and claims paid (actual unemployment benefit money sent) are trending downward. There was a slight uptick in claims paid, which exceeded continued claims for the week. The State Department of Employment Security (ESD) did not provide an explanation for this, but it might be due to the payment of old weekly claims that had been delayed in processing. Jobs data for May comes out next week so we can put a new red dot on the week ending May 16
Figures 2 and 3 show continued claims by job classification in the three county region. This is the best detailed picture we have of who is and is not working.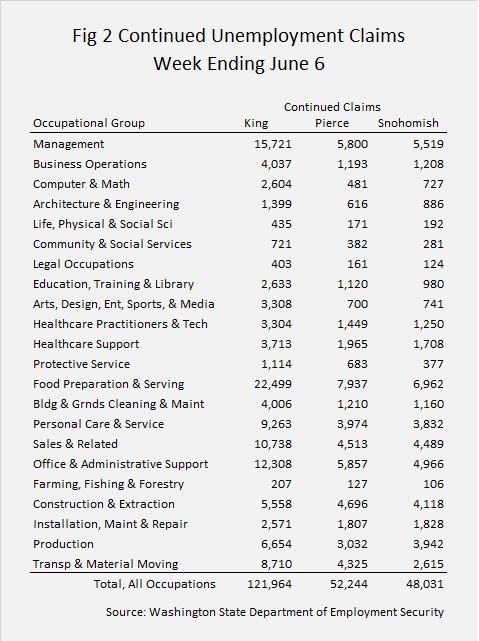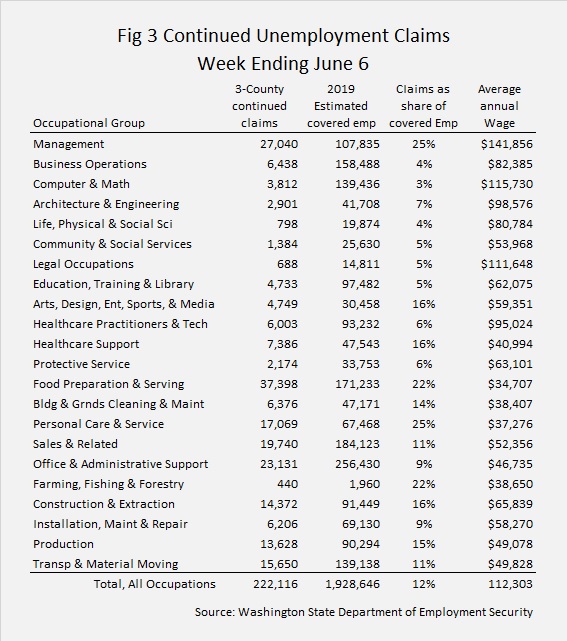 Total continued claims in the region fell by about 36,000 from the previous week. Throughout the region, continued claims were about 12 percent of the jobs identified by ESD in 2019. This can stand as a very rough proxy for an unemployment rate, and it would be consistent with the reported federal rate of 13 percent from mid-May. People have been returning to work since mid-May, so even with the reporting errors in the federal unemployment data, we are in the ballpark.
But all of these data sources have frustrating limitations. Let's look at the six most commonly used data sources for employment and unemployment.
Unemployment insurance first-time claims. This is the most commonly reported data point, and consists of the number of workers who have just lost their job and have filed a new unemployment insurance claim during the week. The data comes out weekly (Thursday morning, covering the preceding week) and normally gives a good idea of short term changes in employment. But these claim numbers include claims that are fraudulent, redundant or otherwise invalid, and we have seen huge numbers of invalid claims in the past two months. The first time claims data is not much use anymore.
Unemployment insurance continued claims. These are the claims that have been ruled valid and will pay out for any week during which the claimant does not work. This is much closer to the real number of unemployed people, since it excludes invalid claims. But it does not include claims that have been delayed. More importantly, a claim is considered "continued" for four weeks after the claimant starts working again and stops filing for weekly payments. As people returning to work outpaces those still losing jobs, continued claims numbers will tend to be higher than actual unemployed people as we wait for claims to expire.
Claims paid. Getting closer to good data here. These are the claims that actually got paid out during a week. This will exclude invalid claims and valid claims by workers who have started working again. But it will not include delayed claims.
Unemployment Estimates. ESD, in cooperation with the U.S. Bureau of Labor Statistics (BLS), conducts a household survey to determine the employment status of residents of the state. This will be more accurate than the unemployment insurance data that has the problems mentioned above, but also has the limitations inherent in surveys, namely sampling error. The monthly unemployment estimates for local areas do not include any detail on sectors or occupations.
Employment Estimates. ESD and BLS also conduct a monthly survey of employers to determine how many employees they have. The survey data is collected in the middle of the month and is extrapolated to create an estimate of jobs in the state by major industry. This data is collected at the state and metro area level. It is quite good, and comes out monthly, three or four weeks after the end of the month, so the data is always four to five weeks old.
Quarterly Census of Employment and Wages. This is the really good one. It is based on the premium payments for unemployment insurance, so is quite accurate in measuring the number of employees per firm. There can be reporting issues around job classifications and job locations, and it does not include the self-employed, but overall this is the best source of employment data. Unfortunately, it comes out several months after the reporting period. We won't get the second quarter data until December.
Employment data is, however, about jobs, not people. There is not always a perfect correspondence between a job lost and an unemployed person, so we still need to rely on survey data for the unemployment figures.
Looking ahead
The monthly employment and unemployment figures for May for the state and the Seattle metro areas will come out on June 17, and on June 23 for the other metro areas of the state. These estimates are based on employment during the week of May 10, so will not include jobs that have returned in parts of the state that are later in reopening.