Last week the Indexer looked at levels of spending on public safety within the larger jurisdictions in King County. As residents and their elected leaders consider possible changes to police department structures and staffing levels, it is helpful to know how safe each community is. Although they are not the only measure of community safety, crime rates are a uniform and well established way to assess demands on policing.
Crime data is getting better, but because reporting formats have changed, it is very difficult to identify trends in crime rates. Crime data for Washington State is compiled by the Washington Association of Sheriffs and Police Chiefs, which has published an annual report, Crime in Washington, since 1980. Beginning in 2012, police departments began to upgrade their reporting, using the National Incident-Based Reporting System (NIBRS), but it was not until the 2018 report, the most recent, that all jurisdictions used the new format. So, we can only get a snapshot of 2018, and only spotty indications of whether crime is increasing or decreasing at any level of detail.
The NIBRS puts crimes into two groups, A and B. Group A consists of most of what we consider serious crimes against people, property and society. Group B consists of what we might think of as "behavioral" crimes. We will only consider Group A crimes in this report. Figure 1 shows the rate of Group A crimes for jurisdictions in King County, using a standard measures of crimes per 1,000 residents.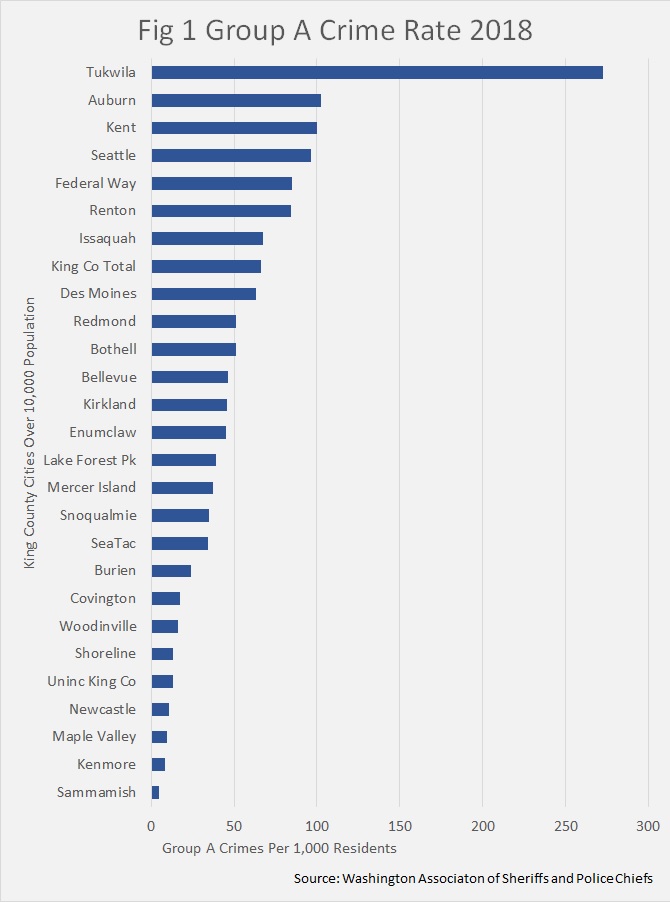 Tukwila is a major outlier in this chart. One reason is the predominance of commercial and industrial uses in the city, compared with residential areas. Commercial areas have a higher propensity for property crime. The cities on the low end of the crime rate spectrum are almost entirely residential, with less commercial activity.
Figures 2 and 3 show the rates for two important categories of Group A crimes: theft and assault.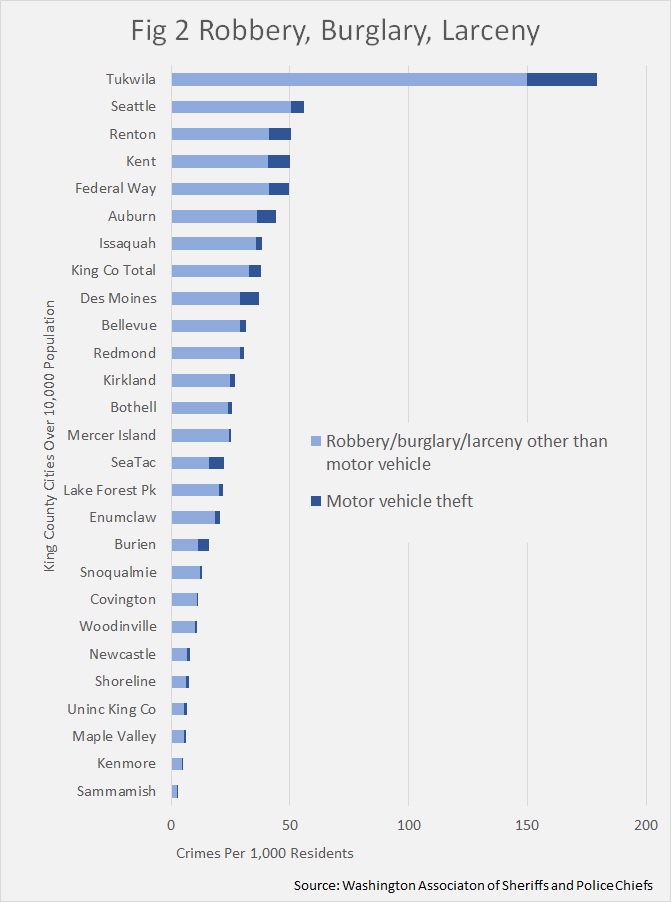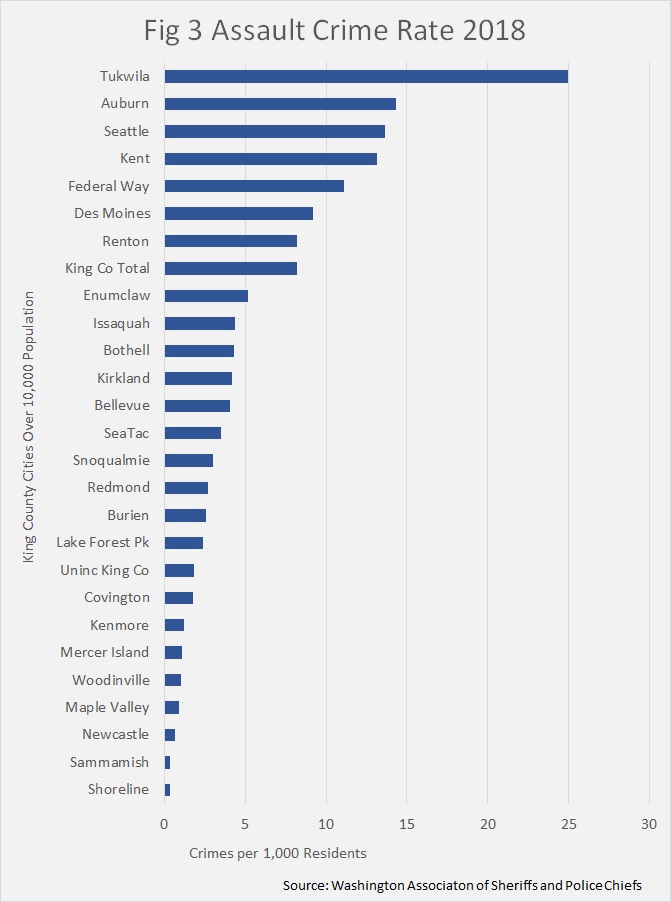 Figure 2 shows the total of all kinds of thefts, and breaks out auto thefts, which gain a certain amount of attention. The high crime cities also rank relatively high in Figures 2 and 3, but in slightly different orders. Assaults are more concentrated in the highest crime cities. In 2018 there were a total of 57 homicides in King County, 32 of which took place in Seattle. The remaining 25 homicides took place in 12 other cities.
In considering police staffing levels and budgets, it might be useful to know if there is a relationship between crime levels and policing levels. Figure 4 shows the relationship between the rate of Group A crimes and the number of uniformed police officers per 1,000 residents for cities in King County. Several very small cities are not shown, and the outlier, Tukwila, is not shown on the chart.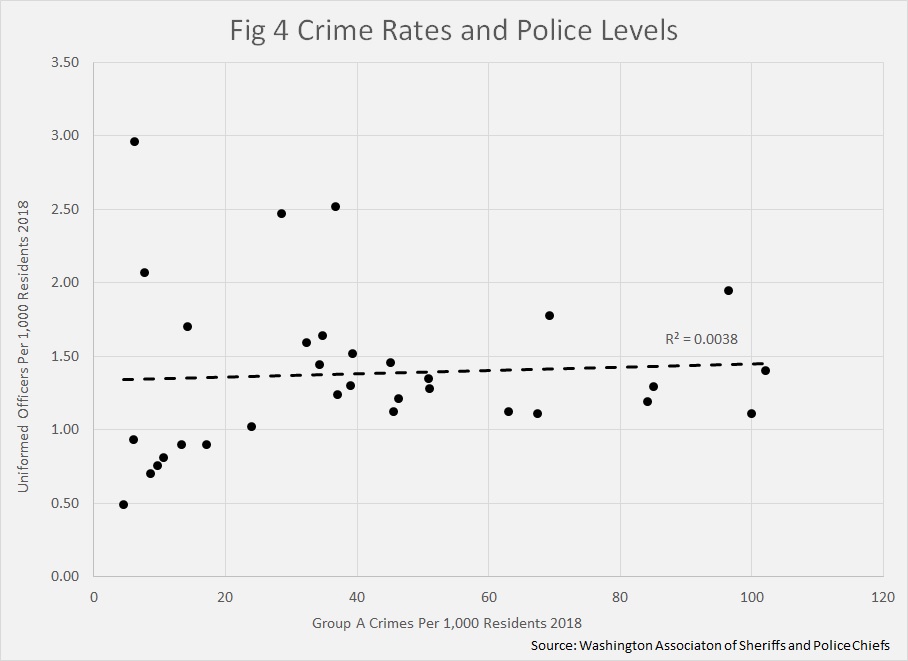 There is no statistically meaningful relationship between crime rates and the number of police on a per-resident basis. But, as noted, crime is also related to commercial activity, and we will look at the more complex relationship between commercial activity, crime rates and policing in a future post.
Ideally, we would want to look at cities that have changed policing levels over time to see if such changes had an impact on crime rates. Unfortunately, current data is not uniform for most crimes over a long enough time period to make such a determination.
Looking Ahead
Crime rates and policing levels vary widely around King County, and there is little relationship between the two in terms of simple correlations. As noted last week, the resources that an individual city puts toward public safety, police budgets and staffing levels reflects city priorities. As cities consider calls for reduced levels of police funding, and a diversion of funding to other priorities, it will be difficult to make the case one way or the other simply based on resident-based crime rates.