Economic change normally moves at a leisurely pace, and the pace at which government-provided data comes out is usually adequate to keep track of things. Not now. In the very strange economic times we are in, waiting months for data is just not acceptable. Along comes Big Data to the rescue.
Opportunity Insights, a think tank based in the Economic Department at Harvard University, and headed up by noted economist Raj Chetty, has developed a set of data tools that provide nearly real-time tracking of the impact of the coronavirus crisis. The Economic Tracker uses data from a number of commercial data sources that, in turn, draw information from activities and transactions happening across the economy. All the data has been made publicly available, and the Indexer will use various parts of this large data collection in future articles.
One of the biggest and most important mysteries of the crisis is the pace at which consumers begin to spend again. As we have noted, most households have resources, but they may be reluctant to spend them. We can now see how spending is expanding, using national credit and debit card transaction data collected by Affinity Solutions and processed by the Economic Tracker. Figure 1 shows the pace of recovery of individual states, based on credit and debit card transaction volumes from March 1 through June 17.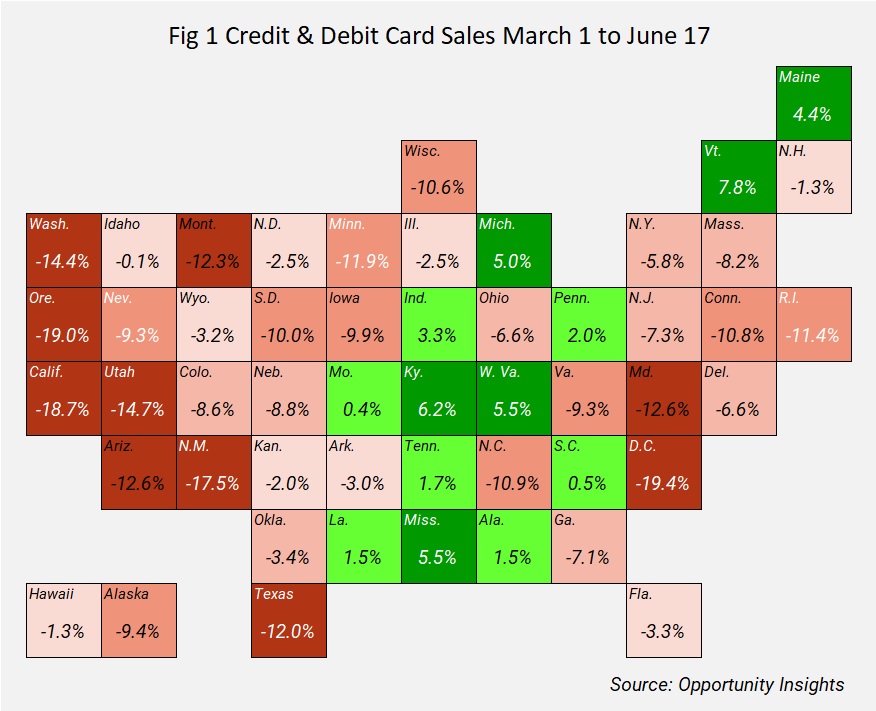 Each state shows the change in total transaction value from March 1, with the darker red states the furthest behind and the darkest green furthest ahead. Washington, at minus 14.4 percent, remains among the hardest hit states. Washington's aggressive program of closing businesses and institutions, and its relatively slow pace of reopening, has led to continued reductions in spending. Several states, shown in green, have risen above their early March transaction levels.
Figure 2 shows the level of transactions in several key sectors from March 1 to June 17. Because of the noisiness of the data, the lines have been smoothed using a rolling ten day average.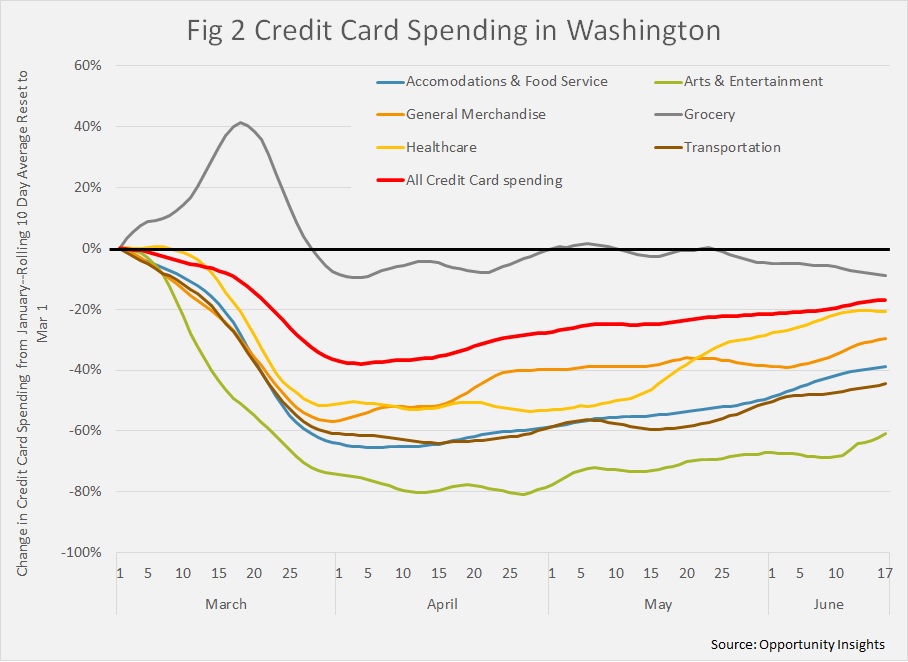 The first thing to notice is that total credit and debit card spending, the red line, has recovered more than half way from its low point of minus 38 percent. Because of a general switch from cash to credit and debit cards, this recovery may be somewhat exaggerated. Nonetheless, progress is solid, and with the reopenings in King County, recovery should continue at at least the same pace.
A number of other things pop out here. First, the gray line for grocery store spending shows the massive jump in spending in mid-March as consumers stocked up on essentials (or hoarded, depending on your viewpoint). With a 40 percent jump in grocery store spending, it is no wonder that the shelves were empty. This spending eased off by early April, and has remained around normal levels ever since.
The light green line, arts and entertainment spending, shows the fastest, deepest and most persistent drop. Most entertainment and recreation venues were closed, and a few reopened in late May. The two categories related to travel—accommodations and food service, and transportation (mostly air travel) also showed a fast and steep drop in the second half of March. Both have recovered slightly, and with the reopenings in King County after June 10, the food service line should tick upwards a bit more.
The healthcare category is tricky. Most healthcare bills are not paid with credit and debit cards, so this captures only a fraction of healthcare spending. Nonetheless, we see the steep drop in healthcare spending as nearly all discretionary healthcare was suspended. This spending has regained over half of its loss since early May.
Researchers at Opportunity Insights noticed a big jump in spending after the federal payments of $1,200 per individual were received in Mid-April. They noticed that the spending was concentrated more in durable goods, rather than in the service categories that had been hit hardest. We can see evidence of this in the orange line of general merchandise, which includes big box stores where durable goods are likely to be purchased. That line takes a noticeable jump in the latter part of April. The unsmoothed daily data show that spending at general merchandise stores went from negative 50 percent to negative 40 percent in the 10 days following receipt of the payments.
Looking Ahead
The Economic Tracker provides data across a number of economic concerns, and the Indexer will dive into this data in the coming weeks. We will also update the crucial transaction data to provide an only slightly delayed picture of the pace of economic recovery.