–Most employees working in King County commute from outside the subarea where they work.
–Of people working in suburban cities, not many people live within that city.
Commutes among cities in King County*
Figures 1 through 5 show commutes into the five largest employment centers in King County.
About 40 percent of people working in Seattle live within the city. As Figure 1 shows, the remaining employees commute from all parts of King County and beyond. No one subarea dominates the Seattle commute.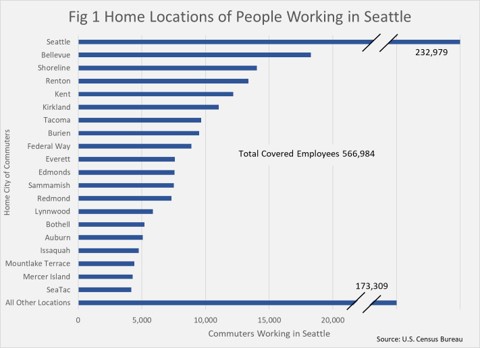 The four suburban cities shown in Figures 2 through 5 show a similar pattern. Large numbers of people commuting in from Seattle, large, but not overwhelming numbers from the city itself, and the balance coming from a wide range of places.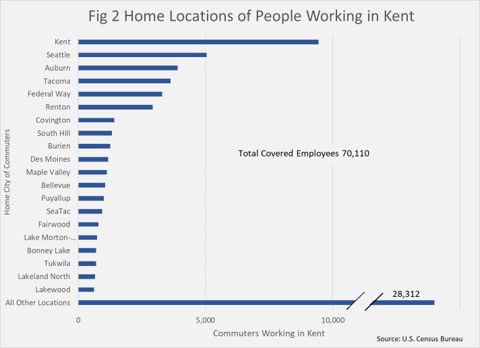 The rate at which commuters into the four cities live within that city's subarea varies. Only 32 percent of Bellevue workers live on the Eastside. 37 percent of Renton and 38 percent of Kent workers live in South King County. Over 50 percent of Redmond workers live on the Eastside. Among the five cities, an average of about 40 percent of workers live in the subarea where they work.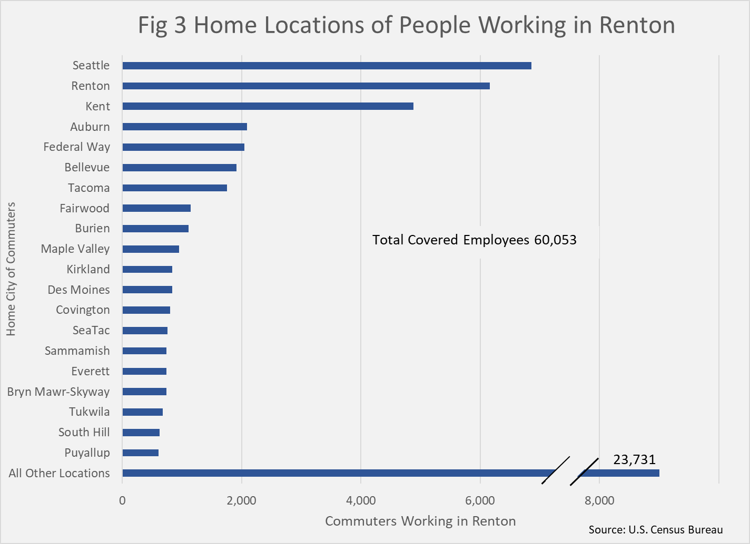 This means that 60 percent of people working in King County need to navigate at least one of the major choke points in the freeway system to get to work. About 10 percent of work trips are taken by transit, so most of those commuters stuck on the freeway are sitting in cars.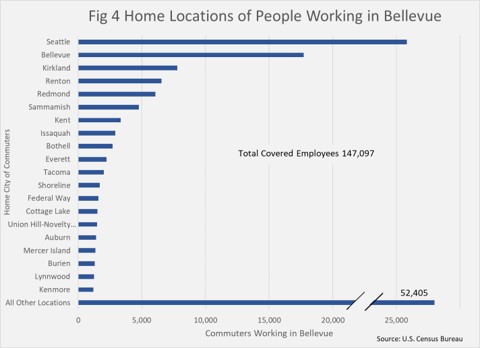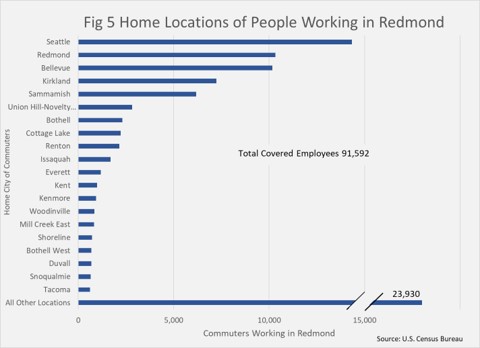 Looking ahead
Ideally, commuters would be able to stay within their subarea and avoid long trips on freeways. The data show that most commuters do not do this. Long commutes derive from some combination of neighborhood preferences, affordability, two-income household dynamics, job switching or just plain inertia.
Questions going forward are:
Will cities cooperate to provide more housing choices to enable commuters to live within the subareas where they work?
Can public transit systems develop useful strategies to capture a larger share of the diffuse commute pattern within King County?
---
* Data is from the U.S. Census Bureau's Longitudinal Employer-Household Dynamics program. This program matches addresses on IRS tax returns (home address) with addresses on state unemployment insurance filings by employers (work address) to estimate commute patterns. This data includes only individuals covered by unemployment insurance, and therefore does not cover self-employed individuals. There are known, but unmeasurable, inaccuracies in the data, primarily from the use of non-site-specific addresses in UI returns. Data should be considered informative, but not definitive.