Climate change keeps getting shoved to the back burner. It was a front burner issue just before the crash of 2008, and had slowly crept back into the public consciousness by 2020, when more urgent matters have again crowded it out. We can be pretty sure, though, that when brainspace gets freed up again, it will move back to the front burner. So where do we in the Seattle area stand?
We, of course, like to think of ourselves as eco-conscious. Are we much different from other big cities? What is the carbon footprint of Seattle, and how does it compare to other places that we might think of as less enlightened? Researchers have done quite a bit of work on this question, and although the measures are somewhat squishy and the studies somewhat old, we can get an idea of how we stack up.
Figures 1 and 2 show the carbon footprints as measured in studies from six and eight years ago. They are not directly comparable for a couple of reasons, but they do tell broadly similar stories. (In both studies, data is missing for some large cities.)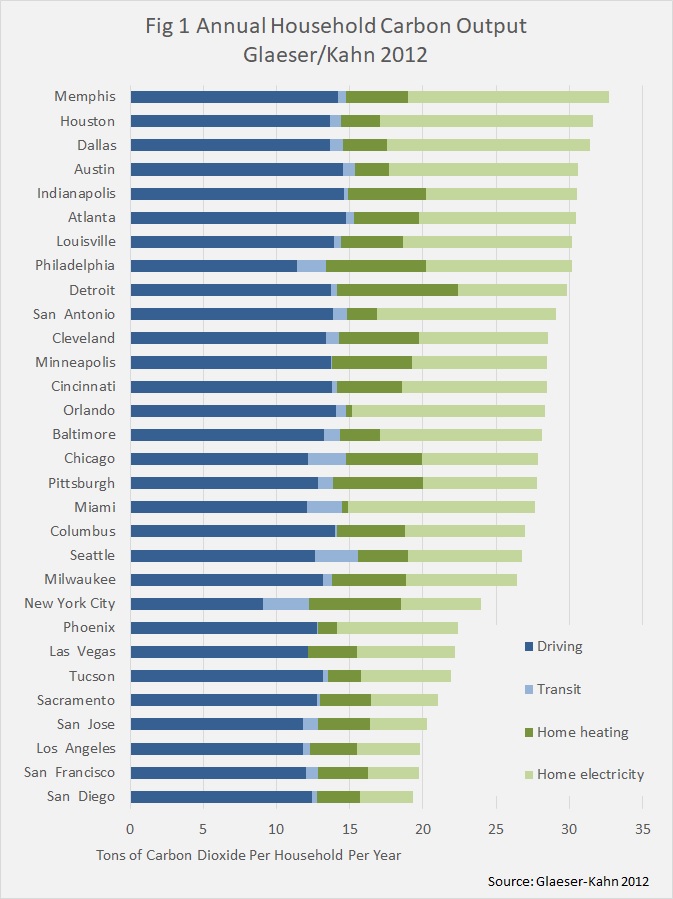 Figure 1 is taken from a study1 by economists Edward Glaeser, at Harvard, and Matthew Kahn, at USC, released in 2012, but based on data from the prior decade. It covers households only, and includes the entire metropolitan area. Seattle's position is not too bad. Lower levels of driving are somewhat offset by the carbon emissions of the region's heavily used (until recently) bus systems. Both home heating and electric use are average.
Across the nation, driving and transit levels fluctuate along a relatively narrow band, and home heating varies depending on climate. Home electricity use also varies widely, mostly driven by use of air conditioning: the hot and muggy southern cities have high electricity use, while the coastal California cities use far less electricity.
Figure 2 is taken from a study2 by Christopher Jones and Daniel M. Kammen, of the University of California, Berkley, released in 2014. It combines the two transportation and two household measures from the Glaeser/Kahn study and adds measures related to household consumption. This study begins at the zip code level, and then aggregates data up to the city and county level. The cities shown in Figure 2 are actually zip code aggregations that include all areas within city boundaries plus some areas outside the boundaries where zip codes flop over into adjacent areas.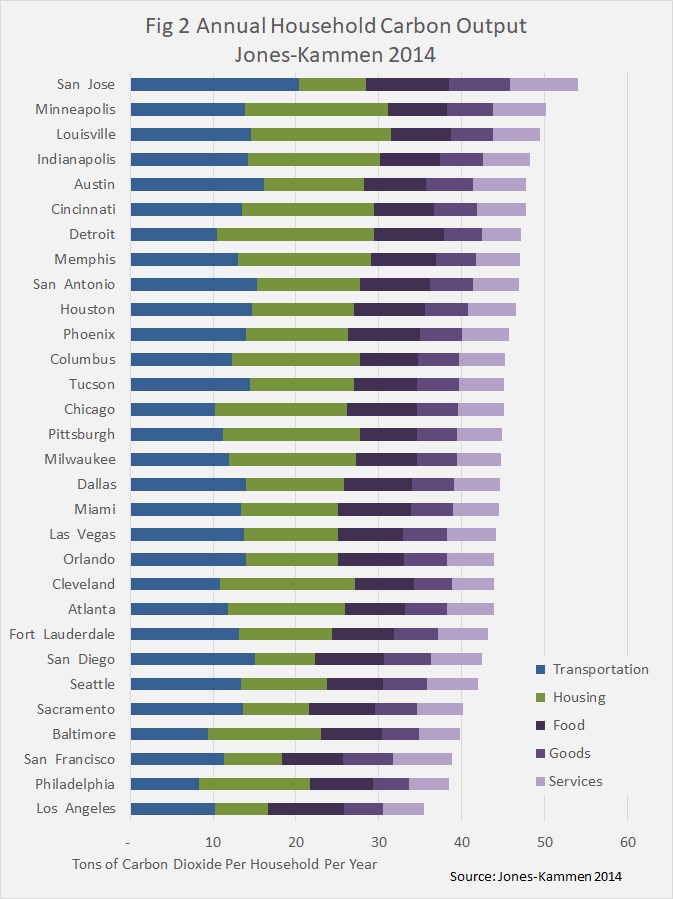 We see a similar pattern here, with the biggest variation in household energy use. Consumption patterns do not vary widely among the cities. The carbon footprint of Seattle households looks reasonably low by these measures. The interesting contrast between Figures 1 and 2 concerns San Jose, which has a small footprint in Figure 1, but a much larger one in Figure 2, where estimates of consumption drive it higher.
Figure 3 provides an estimate of total per capita carbon output from household energy use and transportation for the 30 largest metro areas, compiled by the Brookings Institution3. Again, Seattle and other West Coast cities show a relatively low carbon footprint.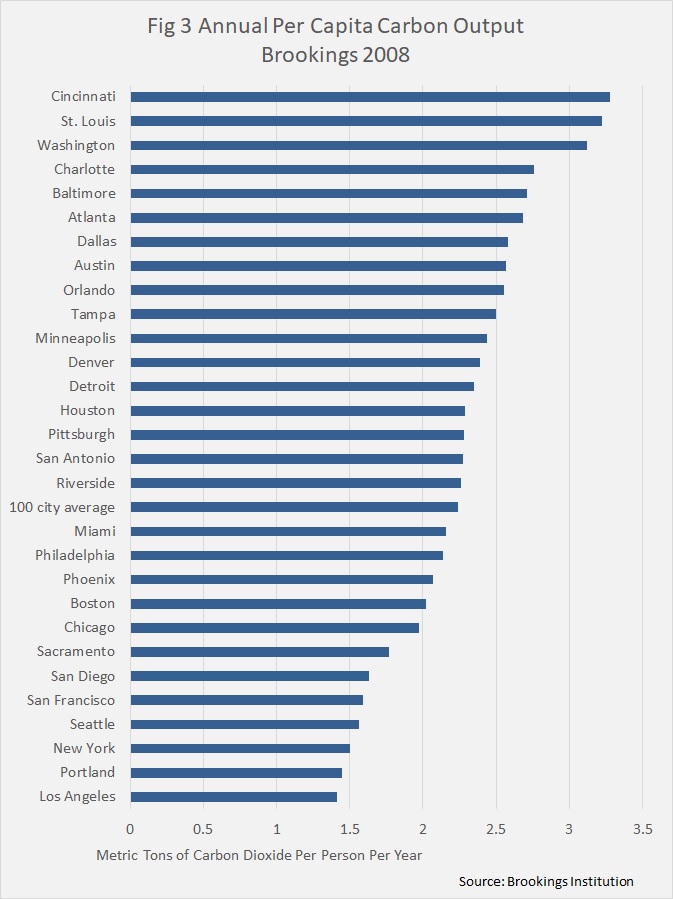 The counter intuitive finding in all three studies is the low carbon footprint of Los Angeles. Southern California has developed a popular image as a sprawling, environmentally irresponsible area. But although it covers a large area, Los Angeles is relatively dense, and its multi-center employment structure allows more people to live close to work. The mild climate of the southern California coast means less use of both heating and air conditioning.
Looking Ahead
Patterns of carbon emissions vary widely around the country, depending on geography, climate and settlement patterns. Efforts to reduce carbon emissions will be far more successful if they acknowledge regional differences.
As Figures 1 makes clear, the most persistent differences among regions is in household heating and cooling,. And as Figures 1 and 3 show, the places that have the lowest carbon footprint tend to be on the West Coast, and the areas with the highest footprint tend to be in the Southeast. Yet the more carbon-friendly West Coast cities tend to be difficult to expand, while the more carbon-intensive Southeast cities welcome growth. Will national efforts be able to convince western states, which control their own land use, to be more open to lower-carbon growth?
Notes
Glaeser, Edward L. & Kahn, Matthew E., 2010. "The greenness of cities: Carbon dioxide emissions and urban development," Journal of Urban Economics, Elsevier, vol. 67(3), pages 404-418, May.
Christopher M. Jones and Daniel M. Kammen, Spatial Distribution of U.S. Household Carbon Footprints Reveals Suburbanization Undermines Greenhouse Gas Benefits of Urban Population Density. Environ. Sci. Technol., 2013, dx.doi.org/10.1021/es4034364.