Debates about the size and missions of police departments are in full swing around the country, with calls for radical reductions in police budgets. But cities will all be starting from different places. Current levels of policing are not uniform among large cities, with wide variation in per capita police spending.
The Lincoln Institute, a business-oriented think tank, has compiled a uniform database of revenue and spending in 156 U.S. cities, using data from the Census Bureau's annual Survey of State and Local Government Finances . Figure 1 shows per capita spending on police and fire service for the 30 largest cities in the country.1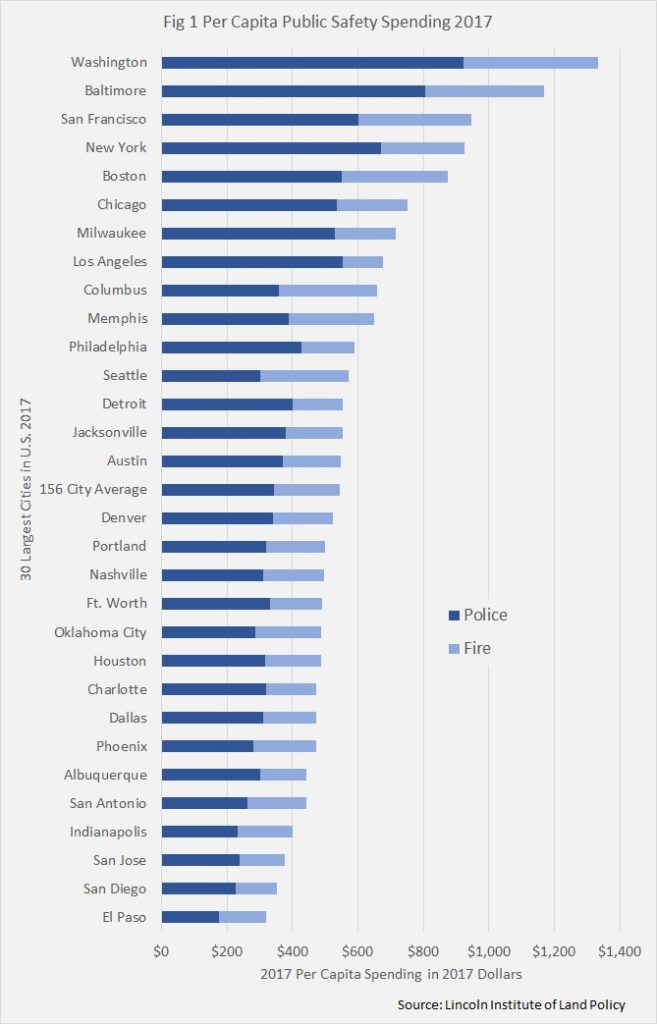 At $303 per capita, Seattle's level of police spending is well below the average of $400 for the cities in Figure 1. Seattle is about average for the larger group of 156 cities. Police spending in Seattle did get a bump in 2018 as a result of a new police guild contract. Seattle's spending on fire service is much higher than the 156-city average.
The Indexer has noted that there is almost no relationship between policing levels and crime levels among the cities of King County. Well, we see the same lack of relationship at the national level. Figure 2 shows the relationship between the rate of violent crime and per capita spending on police services for 43 of the largest U.S. cities (data is not available for all large cities). We focus on violent crime because it tends to be reported more uniformly and tends also to be the political driver of police spending. The red dot is Seattle.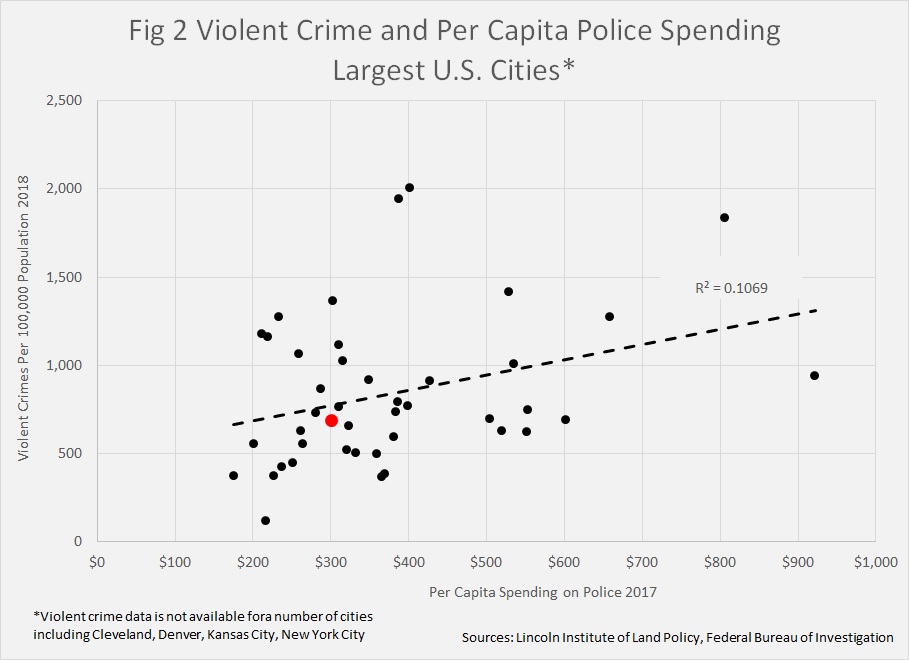 The low R-squared correlation in this plot is almost exactly the same as the correlation for the cities of King County. We see the same pattern, where some cities have high crime rates but do not invest in more police service, while some cities have low crime rates but invest heavily in police service. Houston and Portland spend about the same per capita on police, but Houston has twice the violent crime rate. There is no real pattern at all. Seattle sits at the lower end for both violent crime and police spending, but as noted, Seattle does have very high levels of property crime.
Looking Ahead
The level of police service offered in a community reflects political decisions, and as seen in Figure 2, those decisions may have little to do with the real or perceived need to combat crime. Seattle's level of spending on police service is low for a large city, and cuts in spending will reduce police service to levels far below what one might expect in a big, complex urban environment. In deciding what level of police service is most appropriate, policymakers will need to factor in both Seattle's relatively low level of violent crime and very high level of property crime.
Note that this data covers cities themselves, not metro areas. Cities like Miami and Atlanta, which are small relative to their metro areas, do not make the top 30. Also note that while the figures for Seattle will differ from those reported earlier in the Indexer, the Census Bureau uses a uniform methodology for all cities, so the relative spending among cities should be valid.)