–Massive unemployment claims due to coronavirus shutdowns extend beyond the retail and hospitality sectors.
–Some sectors have been hit very hard and some have been touched very lightly.
–Unemployment filings lean toward lower paid sectors, so the impact on the state economy will be somewhat less than the jobs numbers might indicate.
Layoffs and furloughs due to coronavirus shutdowns have caused a massive and unprecedented spike in unemployment insurance claims. Before the shutdown began, the state Department of Employment Security (DES) received a weekly average of just over 7,000 first-time claims for unemployment insurance. Beginning the week of March 8, claims doubled from the previous week, and then shot up to 120,000 the week of March 15.
DES breaks out the claims by large sectors, using two-digit NAICS codes, allowing us to see where the layoffs are taking place most prominently. Using the DES unemployment insurance filing data, combined with DES jobs data, we can get a rough idea of how much each sector has been affected. Figures 1 and 2 shows total new claims since March 1 for each sector, total statewide employment in that sector during the month of February, 2020, and the share of February employees who have filed unemployment claims. Figure 1 sorts the sectors by the total number of claims for each sector, and Figure 2 sorts the sectors by the share of employees who have lost their jobs. (Figures 1 and 2 exclude the volatile and relatively small natural resources sector.)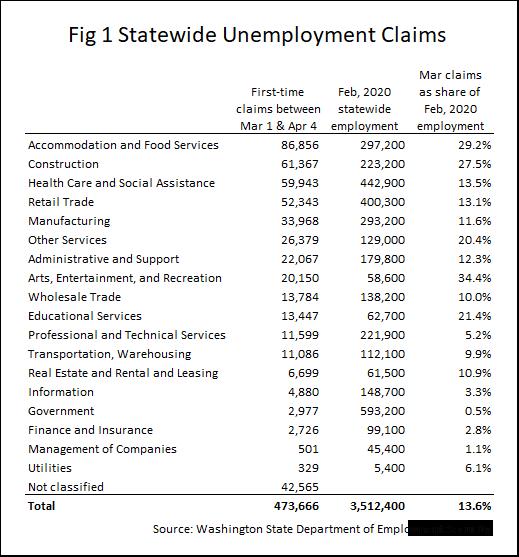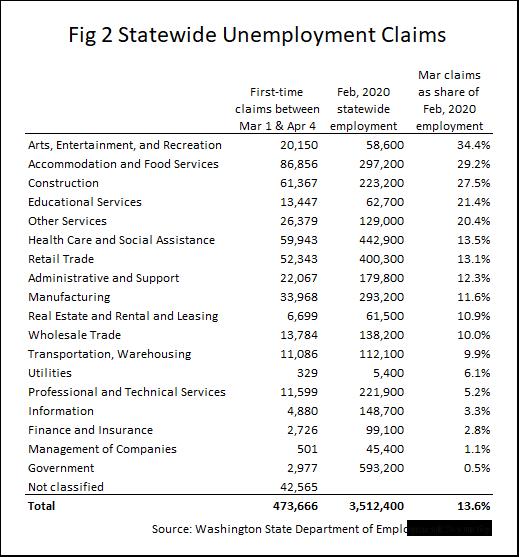 As would be expected, the accommodations and food service sector has been hit the hardest, with the most overall claims and the second highest rate of claims. Hardest hit, from on a percentage basis, is the arts, entertainment and recreation sector, although being a somewhat smaller sector overall, the total layoffs are not as large. Construction has been hit hard as well, both in total numbers and percentage.
The pace of claims in each sector reflects the rolling shutdown of various sectors of the economy, based on perceived risk of virus transmission. Figure 3 shows a breakout by major sector for the three weeks with the most claims activity.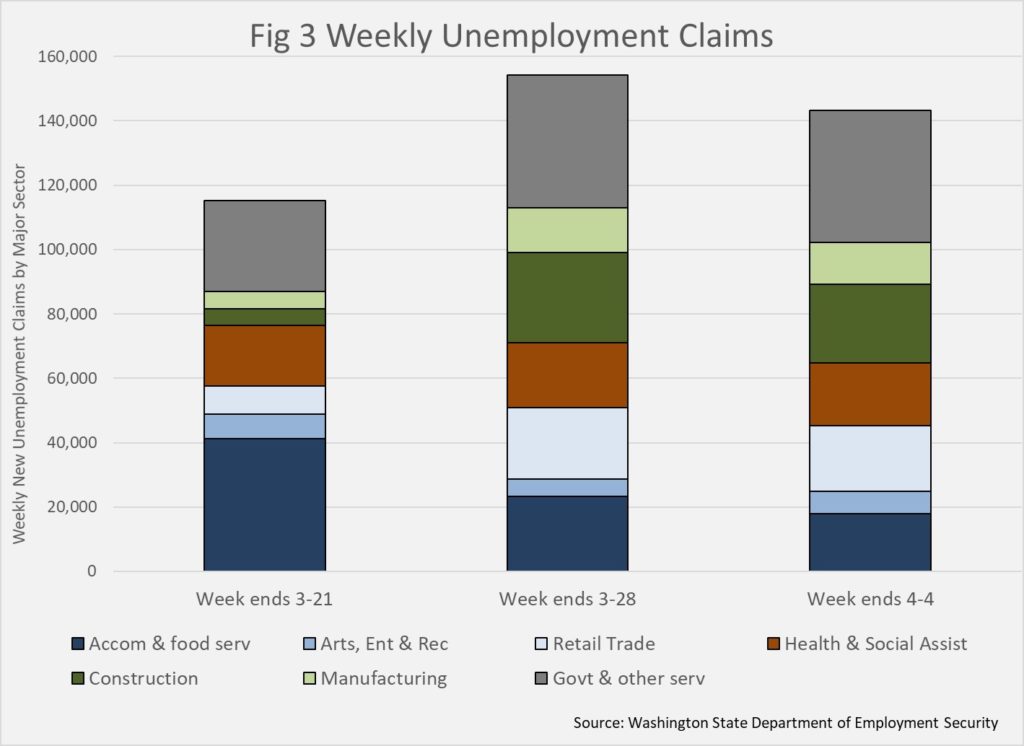 Claims during the week ending March 21, when social distancing requirements were first put into place and restaurants were closed, lean heavily toward the consumer-facing services, such as accommodation, hospitality and entertainment. Retail layoffs surged the following week, as did layoffs in construction and manufacturing. Layoffs in business services and wholesale trade, which are included in the "other services" category began to increase as economic activity overall began to taper down.
The health and social services category is a diverse one, and it is not clear from the 2-digit NAICS data exactly where these large layoffs have been concentrated. Reports have indicated that, because coronavirus-related care has displaced elective care in many hospitals, personnel not participating in coronavirus care have been furloughed. Also, many social service non-profit agencies have seen fundraising cut, and therefore, must close.
The impact on the larger economy from massive layoffs will be complicated. First, the federal government is providing a significant increase in unemployment benefits, so household purchasing power will not be reduced as much, at least in the short term. Also, households may be more willing to draw down savings or use credit if they know they will be back on the job in a short time. Third, the layoffs have concentrated in occupations that pay less, so less money is being removed from the economy. Figure 4 shows the impact of lost wages by sector.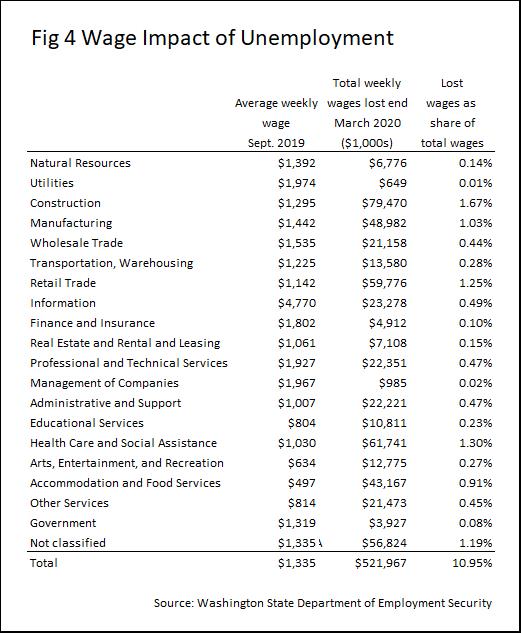 Slightly less than 11 percent of wages have been lost thus far, versus 13.6 percent of jobs. Figure 4 shows that the average weekly wages of some of the hardest hit sectors, such as accommodations and food service and entertainment, are fairly low. At the same time, wages are high in some of the service sectors that have not seen large-scale layoffs.
A related, macroeconomic factor that remains and unknown, is the disposition of income that is not being spent on consumer goods and services. Even with high unemployment, at least 80 percent of workers are still drawing a paycheck, but have fewer things to spend it on. Where is that money going? Is it being spent in on-line transactions? Is it going to the household balance sheet in the form of savings or reduced debt? Will those who remain employed begin spending that money on goods and services as soon a they are able?
Looking ahead
Layoffs will continue as businesses cut back on operations due to lower demand. As of mid-April, all government-enforced restrictions have been in place for several weeks, so most businesses that needed to lay off or furlough staff due to those restrictions will have done so. Businesses, such as restaurants, that are able to stay in operation for take-out and other low-contact services will have reached an equilibrium staffing level.
We can expect more layoffs as business services, such as wholesaling, transportation, legal, accounting and other functions slow as a result of reduced general business activity. We will likely see large scale layoffs at Boeing and other manufacturers that now must remain closed for a longer period of time. It is not clear whether state and local governments, facing reduced sales and business tax receipts, will lay off staff.
Questions going forward are:
Will enhanced unemployment compensation from the federal government last through the time of enforced business closure?
How soon will high-contact businesses in the tourism, food service and entertainment sectors be able to open, and will they be able to staff up to previous levels?
To what degree will the large, stable businesses and their employees that have not been affected by shutdowns be able to inject spending into the economy and jump start business activity once restrictions are lifted?