Not that long ago, The Population Bomb predicted an imminent Malthusian catastrophe: soaring population would outstrip our ability to feed the world. Didn't happen. In fact, we may now be facing the opposite problem: too few working age people.
The Institute for Health Metrics and Evaluation (IHME) at the University of Washington released new research in July projecting that "world population will likely peak in 2064 at around 9.7 billion, and then decline to about 8.8 billion by 2100—about 2 billion lower than some previous estimates." It's all about rapidly falling birth rates in most of the world. According to IHME, "improvements in access to modern contraception and the education of girls and women are generating widespread, sustained declines in fertility."
So, what does this decline in babymaking look like? We'll start at the global and national level in this article and work down to the state and the Seattle metro area in the next article. Figure 1 shows the IHME projections for births by broad geographic area between now and 2100 (These are the mid-range projections, with high and low brackets also provided). The dashed line, total births, is read on the right hand scale.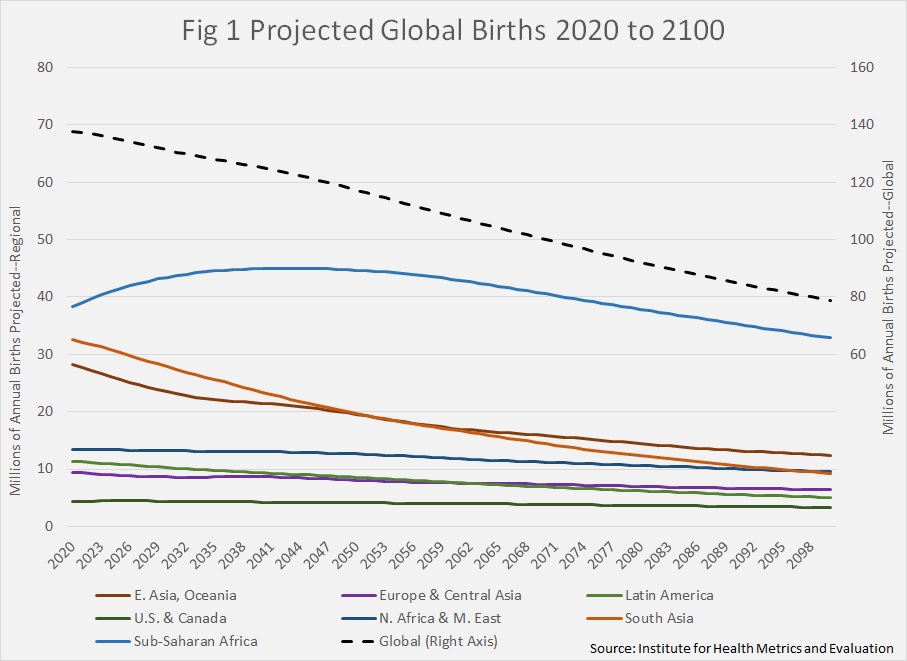 IHME projects a continued steady drop from today in birth rates in all of the world except Sub-Saharan Africa, where the drop will begin in the mid-2040s. The most dramatic drop in fertility will occur in East and South Asia. Overall, global births are projected to fall from about 140 million per year to 80 million, with Sub-Saharan Africa accounting for over 40 percent of births by 2100.
These are the "reference" projections that assume no significant social changes. IHME has further projections based on the pace of development in low and middle income countries. The reference case indicates that births will drop 43 percent by 2100. With much faster development, births would drop by 63 percent, and with very slow development, births would rise by 62 percent. This represents a high degree of uncertainty, but considering how wrong we were just a few decades ago, some humility is appropriate.
Note that the line for the U.S. and Canada does not appear to fall very much. But this is deceiving, as the scale obscures the IHME projection that births in the U.S. and Canada will fall by 25 percent, from 4.4 million per year to 3.3 million. The U.S. Census Bureau has issued its own birth projections, by race and ethnicity, for the next 40 years. While IHME shows about 157 million births in the U.S. between 2020 and 2060, Census projects 173 million U.S. births. Census sees U.S. births rising slightly over the next 40 years.
Figure 2 shows the Census projections. (See footnote about the Census definitions of race and ethnicity)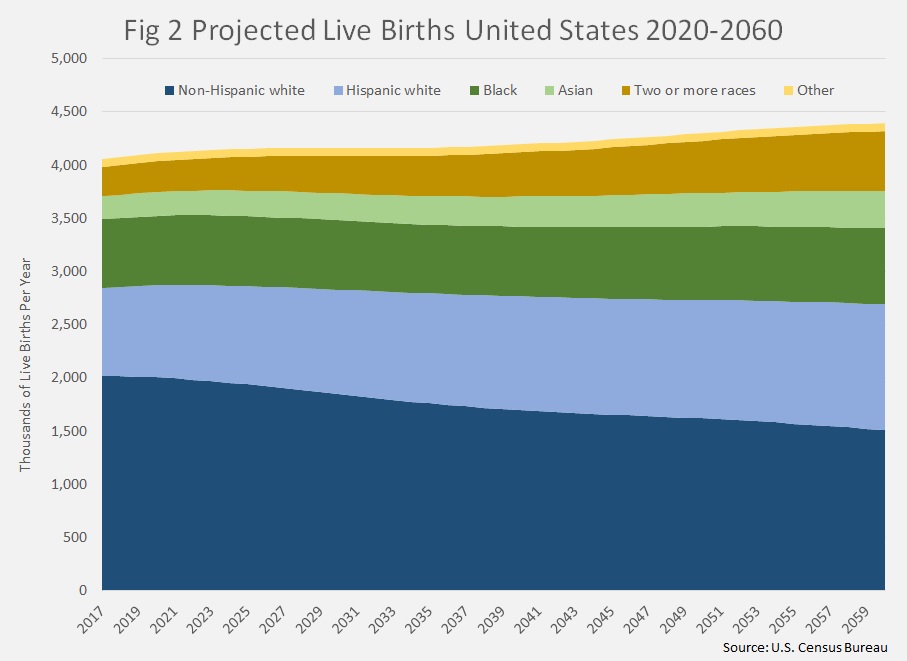 Two things stand out. First, births to two non-Hispanic white parents will fall from about half of all births down to about one third. Second, births to inter-racial families will double, rising from 6.5 percent to 13 percent.
Not only will the racial and ethnic composition of births change, but so will the distribution of births around the country. Figure 3 shows a state-by-state projection for the share of the population under age 5 in 2040 from demographers at the University of Virginia.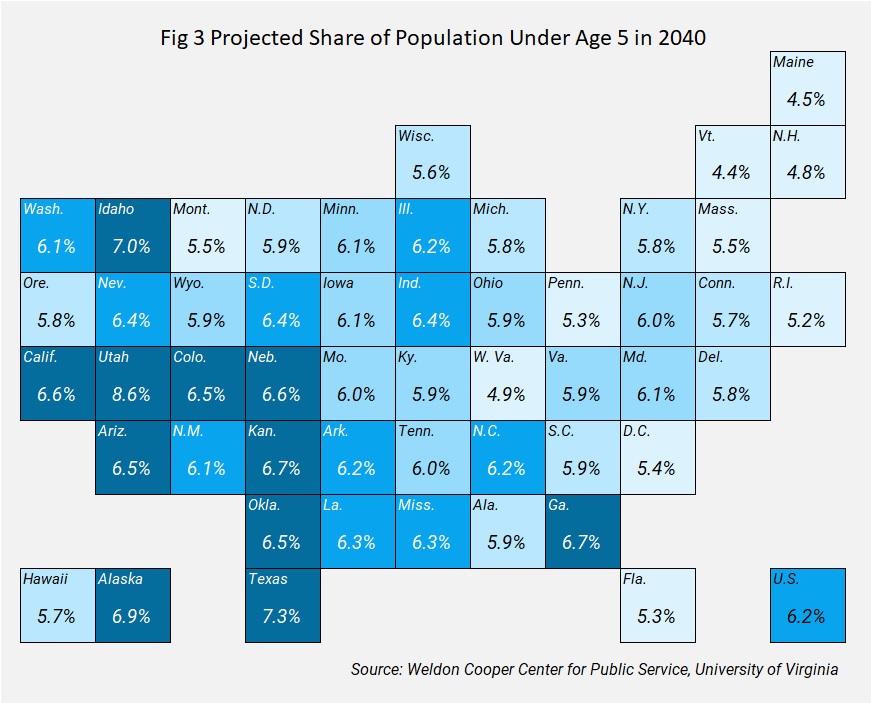 These projections forecast higher birth rates in the West, and lower rates in the Northeast. Washington's projected rate of 6.1 percent of the population under age 5 in 2040 ranks 21st in the country.
Looking Ahead
Countries around the world, and states within the U.S., are aging at different rates. As fertility falls and the young population becomes a smaller and smaller share of the total, societies have fewer people of working age to support and care for the elderly. Migration can mitigate demographic imbalances to some extent, and the countries and states that make themselves open to in-migration will be the best positioned to maintain demographic balance.
Next: Babies in Washington State and Metro Seattle.
Notes on race and ethnicity
The Census Bureau considers "Hispanic" an ethnicity and not a race. A Hispanic person can be of any race. The birth projections covered in this report are broken out by race, and separately by designation of Hispanic and non-Hispanic. The data provide a category of "non-Hispanic white," and subtracting that figure from that for "white only" we get a figure for "Hispanic white," which comprises about 85 percent of the Hispanic ethnicity. No figures are given, for example, for Hispanic-Black.
The "Other" category in Figure 2 is comprised of Native Americans, Native Alaskans, Native Hawaiians and Pacific Islanders.