Famed British conductor Sir Thomas Beecham decamped to Seattle for a short time in the 1940s, serving as conductor of the Seattle Symphony. In 1941 he expressed his worry that unless it got its act together, this obscure backwater would remain an "aesthetic dustbin." Few in the Seattle cultural scene will recall much of anything about Beecham himself, but everyone seems to know about the dustbin thing.
Well, how have we done in the past 80 years? Has Seattle become a cultural capital? When measuring artistic and cultural activities in the broadest sense, the answer is, unfortunately, no. The Bureau of Economic Analysis (BEA) releases an annual assessment of arts and cultural activity in the country, including estimates of the share of state GDP that is accounted for by various activities. The figure below shows the top ten states, plus the nation and Washington, for concentration of five principal cultural industries. The BEA study is based on 2017 data.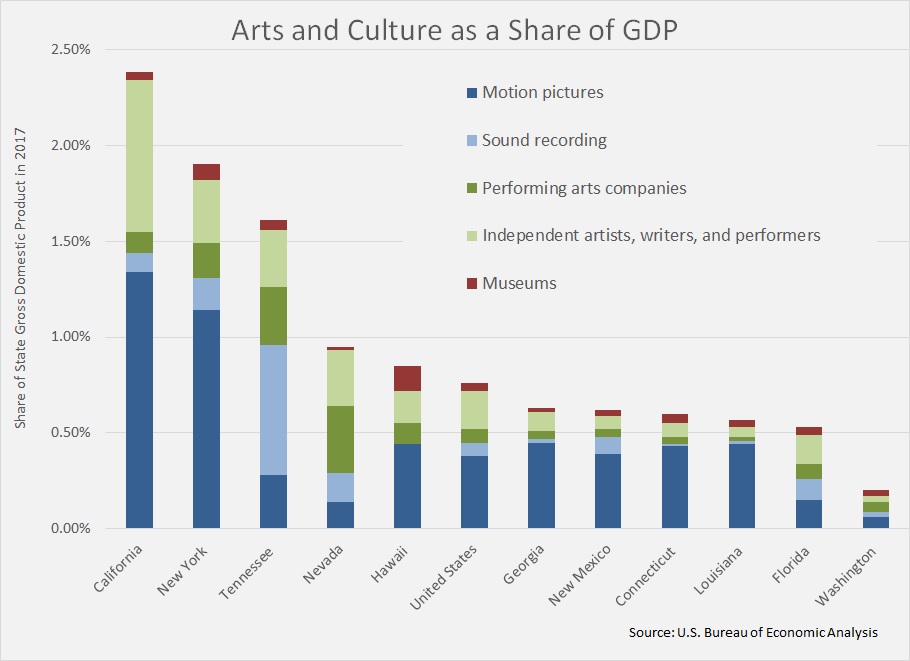 Washington actually ranks 32nd on the list, tied with Ohio, for share of state GDP in these activities.
Now, if you had made your way to Column B of Table 3-a of Arts and Cultural Production Satellite Account 2017, you would have been delighted to see Washington ranked NUMBER 1 in total arts and cultural production as a share of state GDP. But a little further investigation would have led you to Table 3-b, column E, "publishing." And, yes, publishing includes not only the latest literary fiction, but also software publishing. So, remove that, and other IT services that somehow get categorized in arts and culture, and Washington plunges to No. 32.
Washington is a relatively large and very productive state, so looking at total output for these five sectors, we jump up to Number 17, with about $105 million in output in 2017. But that amounts to only 0.7 percent of the national total output. These industries are highly concentrated, with California accounting for 45 percent of national output and New York accounting for 21 percent. Number 3, Tennessee, accounts for less than 4 percent of national output.
Dustbin? When it comes to quality, certainly not, and Beecham would have known that back in 1941, had he looked around a bit. When it comes to quantity, though, Washington is not much of a player.
No activity has been hit harder during the pandemic than the broad entertainment/sports sector. For better or worse, that sector is just not very big in Washington, so while the the effects of its almost complete shutdown will be devastating on the individual artists and workers, and disappointing to patrons, the macro impacts will not be large.