The Indexer has reported on crime rates and arrest rates in Seattle. Now, to get a better idea what officers on the street get involved with each day, let's take a closer look at the crimes being reported in the city.
The Seattle Police Department (SPD) publishes its crime statistics on a daily basis at a fair level of detail. It starts with two levels—more serious Group A and less serious Group B—and three basic categories of crime: against persons, against property and against society. These are broken down into Parent Groups (e.g. Assault) and specific offenses (e.g. aggravated assault). All of this is meant to follow the FBI's Uniform Crime Reporting program.
Figure 1 breaks out 31 days worth of crime reports, filed from July 19 through August 18, 2020. Some specific offenses are grouped by similarity. There were a total of 4,620 reports filed during that period, and each box represents 10 reports.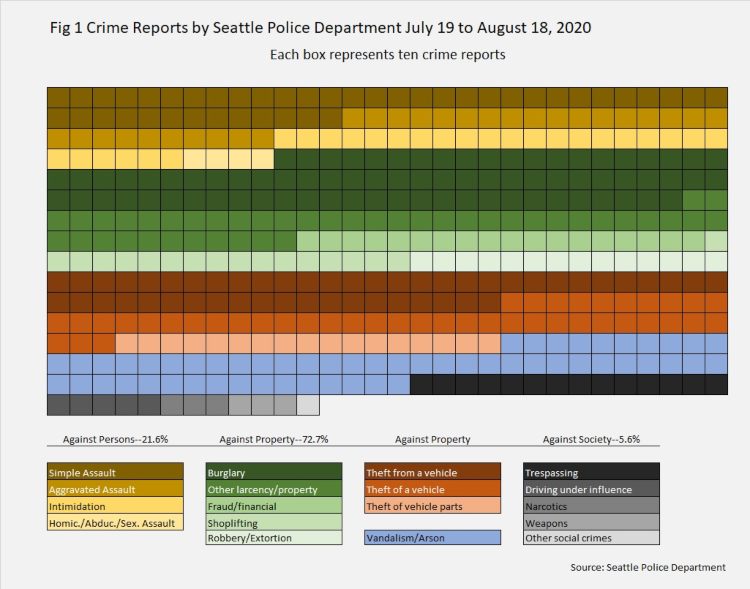 This breakout highlights the high levels of property crime in Seattle. All the green, red and blue boxes represent various kinds of crime against property. Robbery can also be considered a crime against person, since it involves threats. With the exception of trespassing, crimes against society, including weapon and narcotics crimes, make up less than 3 percent of reported crime.
It is quite likely that the data is skewed in favor of property crime for the simple reason that most insurance claims require a police report. Victims of other kinds of crimes, such as assault or sexual offenses, may not be as inclined to report the crime for a variety of reasons.
Looking Ahead
Given that property crimes in Seattle have a very low record of arrest and clearance, those arguing that non-uniformed police department personnel could take reports may have a point. Producing a document to accompany an insurance claim is not exactly a law enforcement action. But would it signal an effective decriminalization of property crime if there does not appear to be any effort to investigate and find the thief?