Each Thursday around 10:00 a.m., the Washington State Employment Security Department (ESD) releases data on unemployment insurance claims from the prior week. It releases two sets of data. One gets a lot of coverage, while the other, which is more significant, gets less attention and remains somewhat mysterious.
The announcement that gets the news coverage is "first time claims." This is the number of claims for unemployment insurance benefits that were filed in the prior week by an individual who has not had an ongoing claim. Presumably, these first time claimants have just been laid off or have just realized that they can claim unemployment benefits. The Indexer has been tracking these, presenting weekly claims by major industry groups. The latest figures, released on May 14, are shown in Figure 1. In all, since March 1, ESD has received just over one million first time claims.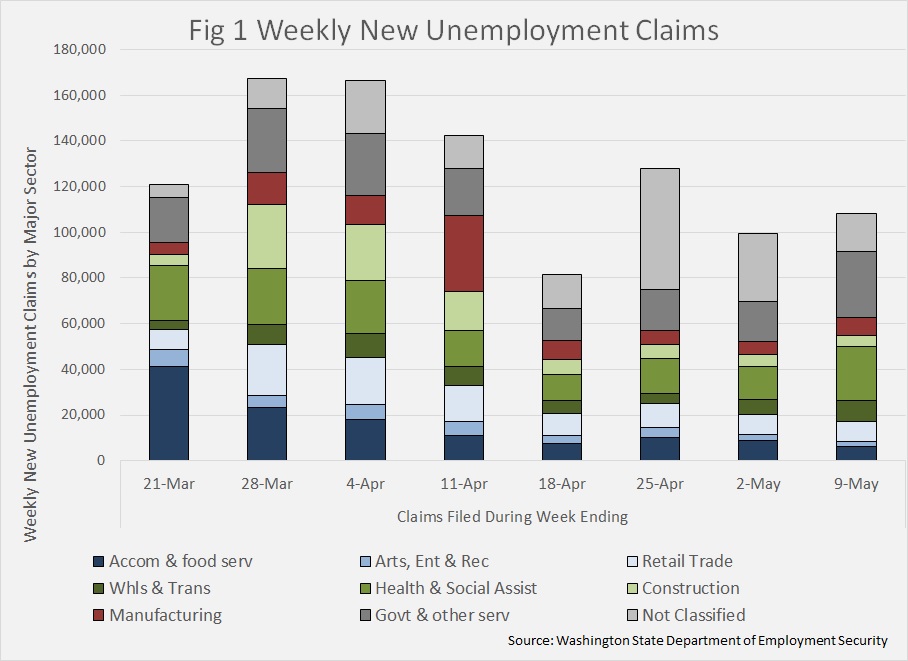 Since not much hiring has been going on, it is tempting to conclude that over one million Washington workers are unemployed. Well, that is where the second set of data comes in. This report covers what are called "continuing claims," the ones that actually result in benefit payments. These are claims that ESD has found to be valid and under which claimants have filed regular weekly claims. So, how many initial claims turn into "continued claims" that will pay out?
Figures 2 and 3 compare the cumulative initial claims, by major sector and major occupation category, with the continued claims reported by ESD. (The two columns are off by one week reflecting the lag between initial filing and the earliest week the claim could be reported as "continued.")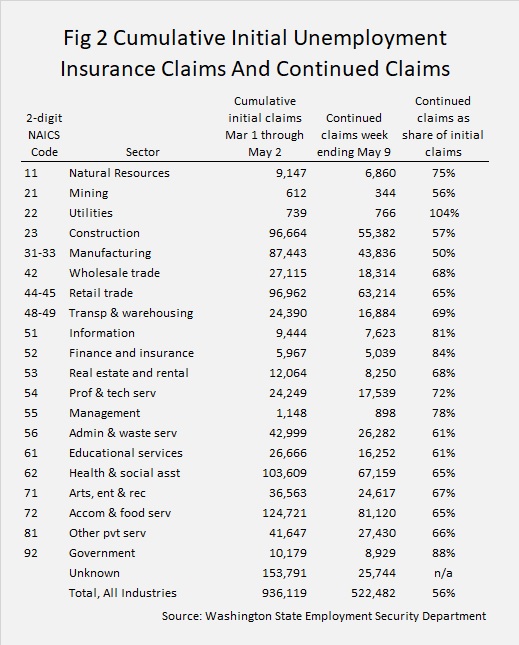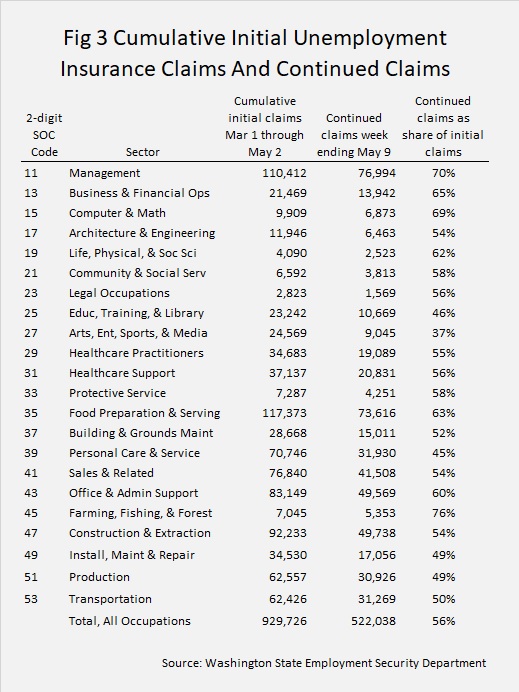 Figure 4 shows the relationship between cumulative claims during the coronavirus shutdown and the number of individuals who have received weekly benefit payments into their bank account. (The large number of individuals receiving payments during the first weeks of the shutdown reflect the normal number of unemployed people in the state. A total of 61,000 people applied for unemployment benefits in January and February of 2020, before the shutdown started. There is a one-week lag between filing and first benefit payment.)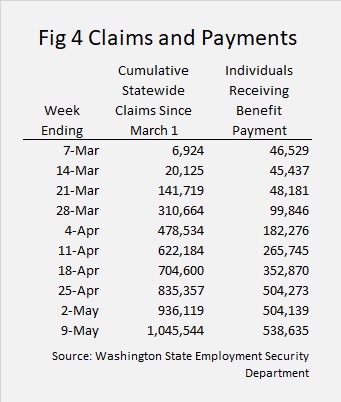 There is a significant discrepancy between the total claims that have been filed and the number of claims that ESD is paying out on. Only about 60 percent of the total number of initial claims filed after March 1 are still being paid as of the week ending May 9.
So, what is behind the huge gap between cumulative initial claims and actual payments? It could be several things, some of which ESD knows about and some of which it doesn't. The obvious first place to look is claims that are rejected as invalid. There appear to be quite a number of these.
But even valid claims may not be followed up on by the claimant. After an initial claim has been approved, the individual must file a weekly claim to get that week's benefit payment. An individual may fail to file a claim in a given week for a number of reasons, and ESD does not track claimants after the initial claim is approved. If an individual fails to file a claim for several weeks, their status is moved to inactive, and they would not appear in the data for continued claims.
Another explanation is simply that people went back to work, either because their old job became available again, or because they got a new job. ESD does not require that claimants report when they are re-employed, and all ESD knows is that a claimant has stopped filing weekly claims. ESD will learn that a claimant has a new job when their new employer files UI premiums, but that won't be for another month.
As of May 14, ESD indicated that they have about 50,000 claims that are still under review, a figure which would not close the gap very much, even if all those claims were approved.
We cannot know in real time how many Washingtonians are truly unemployed. That is, they are living in the state, they want to work and are available to work, but do not have a job. But it seems as though the number of unemployed people is quite a bit smaller than would be indicated simply by looking at the figures on first-time claims for unemployment benefits.
April employment and unemployment estimates will be released on May 20 for the Seattle area and May 26 for the rest of the state. These reports need to be viewed with some caution, as some worksites will have already restarted, and many workers are in a strange category of unemployment, having been furloughed with a high likelihood regaining their old job once their employer reopens. It will be several months before we know how many jobs are gone for good.