The state GDP numbers are in for 2020. While not a single state had real, inflation-adjusted GDP growth, Washington experienced the second smallest GDP decline. And in nominal terms, without adjusting for inflation, the state's economy actually grew slightly. Only the Beehive State did better.
It was a roller coaster ride. From the prior year, adjusted for inflation, the state grew 2.1 percent in the first quarter, dropped by 6.6 percent in the second quarter, and then grew by 1.6 percent in the third and 1 percent in the fourth quarter. Something between the optimistic "V" recovery and the slightly less optimistic "Swoosh" recovery.
But, in all, the state did very well compared to the nation. Figure 1 shows the inflation adjusted year-over-year change in GDP for the states.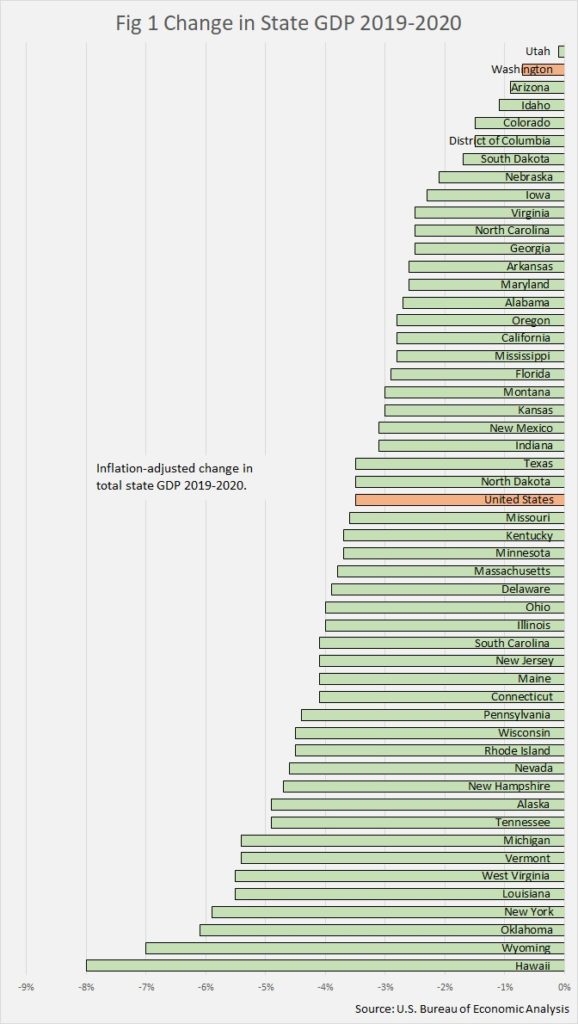 Within Washington the impact has been highly uneven across sectors. Strength in one sector does not do much to help those whose skills are not transferable or whose geographic region is dependent on the sectors, such as tourism, recovering more slowly. Figure 2 shows the dollar changes in state GDP by major sector.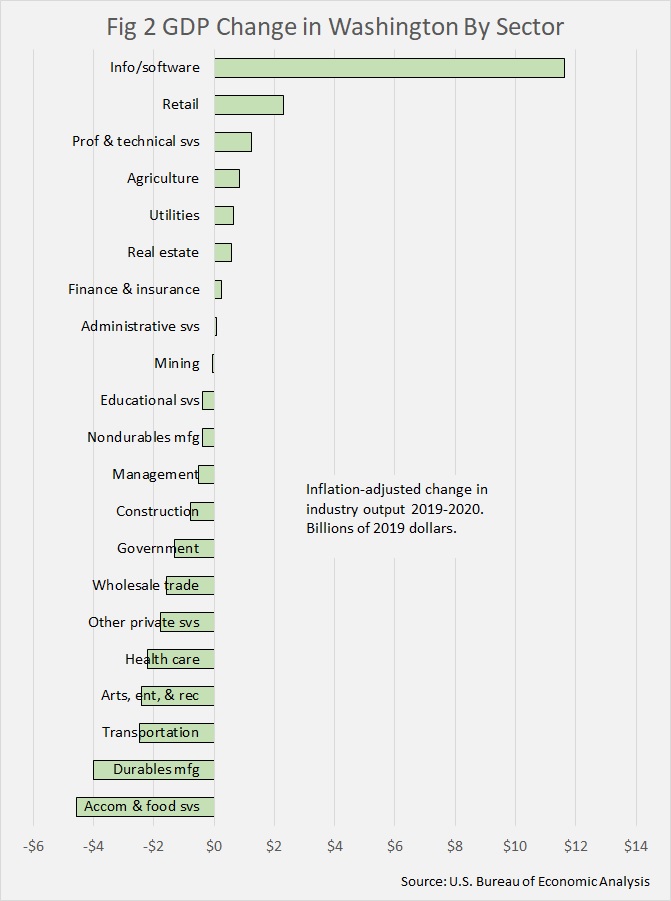 The two bars at the top represent the big winners in the economic shifts of the past year. The information sector includes software and internet services, scooping up all of Microsoft as well as Amazon's cloud services. The second bar, retail, includes brick and mortar stores as well as Amazon's internet retailing operations.
The problem with this picture is that the sectors doing really well consist largely of people who have been working from home and not spending nearly as much money in the service sector. So the overall output of the economy in the state just won' be felt as much by the services that are shown in the negative bars. As we have discussed ad nauseam here at the Indexer, a good share of that growing output has gotten stuck in bank accounts as the normal places to spend it remain far less accessible.
Looking Ahead
As the pandemic winds down with vaccinations, and households begin to spend their recovery payments and the saving they have locked away, the demand side of Washington's economy could begin to grow rapidly. The state could find itself with significant labor shortages. Much of the slack in the labor market consists of people waiting for their industry to re-open, and with generous unemployment benefits they can afford to be patient as their old sectors reemerge. So, there may not be as large a pool of unemployed people as we think waiting to jump into newly created jobs in the state. And even with somewhat lower rents, this is still a very expensive state, and it will struggle to attract labor from those state at the bottom end of Figure 1.